14-Day Face Rejuvenation Challenge
Customers using our Niacinamide Face Treatment have seen noticeable positive changes in their skin from using it for just 14 days.
Vitamin-infused powder loaded with powerful plant actives to rejuvenate & restore aging skin
Stem cell re-energiser and elasticity enhancer
Strong anti-inflammatory and anti-oxidants to help penetrate the skin, restoring collagen and repairing the tired skin
Designed to help you decrease wrinkles, acne & blemishes and nourish & tighten your skin
Help restore your skin's natural radiance & glow and reduce areas of skin discolouration
This formula intensely rejuvenates skin at a cellular level
Rewind those wrinkles and regain the plumpness in your skin
Vitamin B3 (Niacinamide)
5x Hyaluronic Acid
Aloe Vera
NAD+
NMN
Zinc Gluconate
Vitamin B5
Myo-Inostol
Inositol Hexaphosphate (IP6)
Natural Vitamin E
CoQ10
PQQ
Vitamin B1
Vitamin B6
Vitamin B7
Vitamin B9
Vitamin K2 (MK7)
Retinol (Vitamin A)
Vitamin C
Pro Vitamin D3
TMG Betaine
Dipalmitoyl Hydroxyproline
Sulphate & Paraben Free.
Put 1-2 scoops of powder into wet hands
Gently massage into face and neck until almost dry
Massage more water into your face aiming to penetrate into the skin & nourish the cells as much as possible
While skin is still damp, apply moisturiser to seal in the ingredients
For best results, do not wash off and leave on all day / night
Notes: foundation and makeup can be applied once the concentration is completely dry.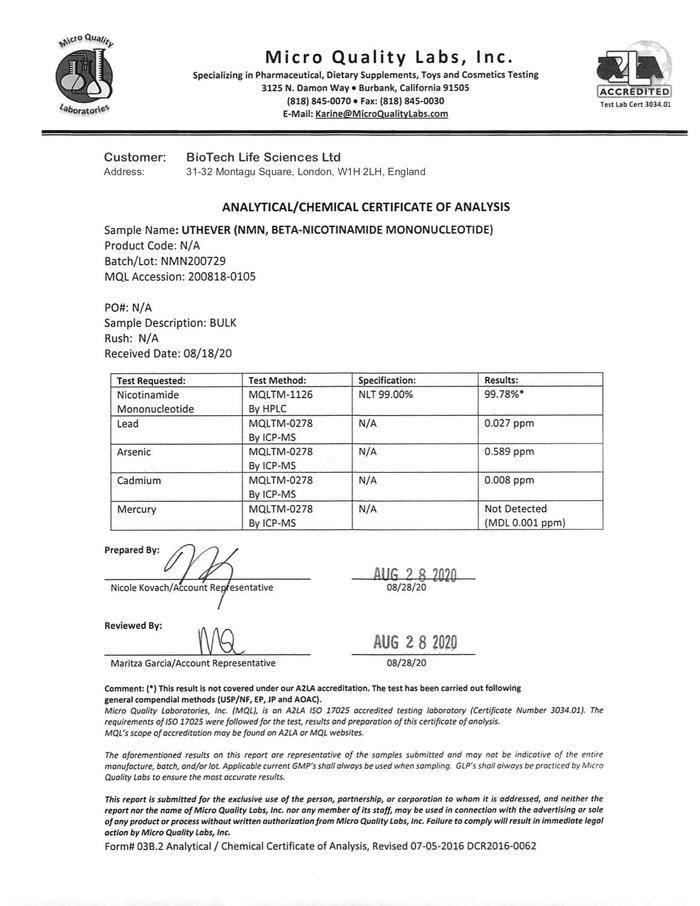 This product is vegan and has zero GMOs.
We have received certification from a 3rd party lab (image above in 1st tab) that states our NMN having a 99.78% purity.
Our Amazon page has 100+ 5* reviews as well as the reviews collected on our own website.
We use ZERO nasty ingredients and AVOID using harsh ingredients such as fragrance, sulphate & parabens.
So far so Good
I have noticed the energy.
What a great product.
I have never really worn a a face cream before, so was a bit sceptical. However, now I've seen the results from the Intense Face & Skin Rejuvenation cream. I intend to continue to use the product.
Bouncing back
Had another cold, waited till it had passed before giving this a run. Two caps, 3 mile run - energy still flowing after as well as metabolism buzzing with heat. Managed 30% more productivity & no early crash. Felt great the next day too. Pretty damn impressive?
High Quality/Purity and Effective
I placed my initial order of NAD+ powder several months ago. I simply wanted a small boost between my NAD+ IV infusions. I have been taking intravenous infusions for nearly 2 years. Though the infusions are highly effective, they are also very costly and time consuming. My hope was that the BioTech Life Sciences product, NAD+ in powder form, could supplement the infusions or that I could decrease them a bit. Never, Ever, did I imagine the effectiveness so great that I could replace the infusions all together! Sure the company mentioned this on their site but those of us in the medical field know that when speaking of delivery and absorption, there is no rival for straight delivery through the vein. That is, until I tried this companies product. I cant say enough about these sublingual powders, its fast absorption, and effectiveness. I am so very happy to have found them. I am now experimenting with their other products and documenting my progress. Their customer service is impeccable. Highly educated on their products, they can answer any questions you might have. And lastly, I want to add that I have not been paid or profited in any way for this review. I take the health of others and myself too seriously to allow monetary bias to form my opinions.
Exceptional product
I have found a product that lives up to my expectations which is super excellent with increased energy my mood is good, immune system is superb and have never been feeling better than I do now having tried lots of different products in the past nothing compares to this company for quality and service
Would recommend to my family and friends