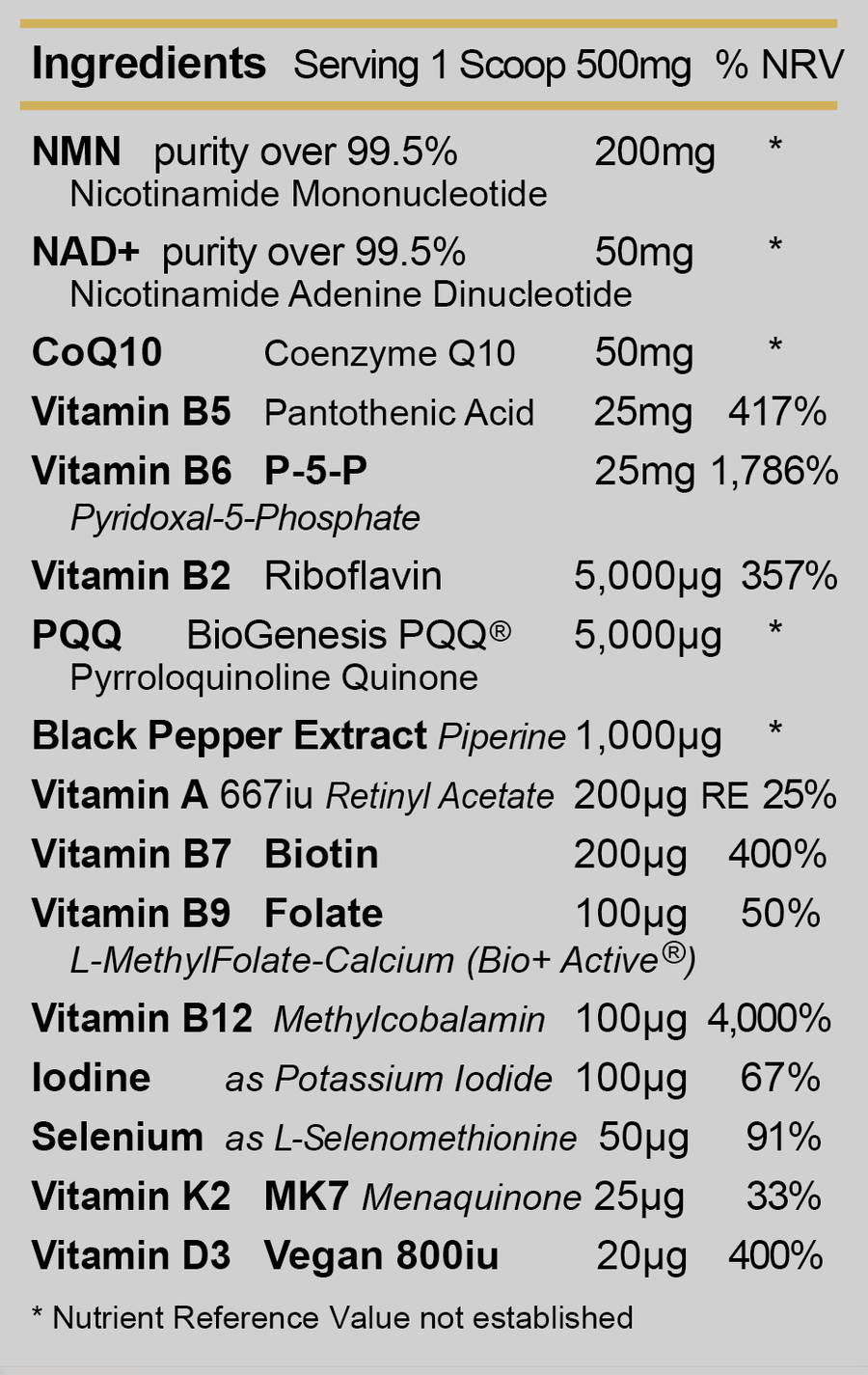 1-2 capsules with breakfast
if required
1-2 capsules with lunch
The ingredients in this formula have been chosen for their roles in energy metabolism.
Energise-X is to be taken sublingually rather than as capsule-form.
Sublingual bypasses the digestive tract and enables to the body to absorb more of the active compound.
Member of Health Food Manufacturer's Association
We are a member of the Health Foods and Manufacturer's Association (HFMA).
This product is Vegan. We do not allow genetically modified ingredients in any of our products.
Made with 99.5% pure NMN
All of the ingredients have been proven in research to help natural energy metabolism and our mitochondria produce energy.
This is the strongest and most potent natural energy product available in the world.
"I began taking Energise after a friend recommended it to me. I was sceptical and firmly of the belief "if it sounds to good to be true, it is" The shock I had after only a few days (hours really) of taking Energise. I felt invigorated, and energetic. I was able to achieve much more than normal, both physically and mentally. It has added bonuses too. My skin tags, which I have suffered from most of my adult life began to shrink. The two on my face noticeably. I slept better too." - Simon Clark
---
Energise-X has been designed to be the best supplement for energy production.
It is the only supplement to contain 5 key energy-boosting ingredients:
NMN
NAD+
PQQ
CoQ10
Vitamin B12
These 5 core ingredients are essential for energy production and efficient mitochondria.
CoQ10 (also known as Conenzyme Q10) is a compound that generates energy in your cells.
We produce it naturally in our bodies, but it decreases with age significantly.
In our TheraStem Energise Formula, we have included the following dosage:
PQQ is a B Vitamin-like enzyme that helps protect your mitochondria (our energy) from oxidative stress and promotes new mitochondria (more energy).
It also stimulates the growth of new mitochondria even in aging cells.
Helps support mitochondrial biogenesis and function
Helps support cardiovascular health and cellular energy
Helps support cognitive functions
We have included the following dose of PQQ:
We have decided to include more NMN to NAD+ in our TheraStem Energise Formula compared to our TheraStem Body Formula.
In this formula, we have included the following dosages:
NMN increases Physical Energy more than NAD+ and we wanted to create a formula which is NMN dominant.
Vitamin A Retinol - 200ug
Benefits of Vitamin A:
Normal Iron Metabolism
Maintenance of Normal Skin
Maintenance of Normal Vision
Normal Function of the Immune System
Support Normal Immune System Function
Maintenance of Normal Mucous Membranes
Vitamin A has a Role in the Process of Cell Specialisation
Vitamin B5, B6, B7, B9 & B12
We have included 5 B Vitamins which help with energy-production.
Vitamin B2: 5,000ug
Vitamin B5: 25mg
Vitamin B6 P-5-P: 25mg
Vitamin B7: 200ug
Vitamin B9: 100ug
Vitamin B12: 100ug
Benefits of Vitamin B's:
B2, B5, B6, B9 Folate & B12 & Help Reduce Tiredness & Fatigue
B6, B9 Folate & B12 Contribute to Normal Red Blood Cell Formation
B2, B12, B6, B7, Piperine & Iodine Contribute to Normal Nervous System Function
B12, B2 Riboflavin, B5, B6, B7 Biotin & Iodine Contribute to Normal Energy-Yielding Metabolism
Vitamin D3 (Vegan) - 800iu
Vitamin D3 - 800iu
Benefits of Vitamin D3:
Has a role in the process of cell division
Contributes to the maintenance of normal teeth
Contributes to the normal function of the immune system
Contributes to the maintenance of normal muscle function
Helps to reduce the risk of falling associated with postural instability and muscle weakness. Falling is a risk factor for bone fractures among men and women 60 years of age and older
Vitamin K2 (MK7) - 25ug
Vitamin K is needed for the body to form Prothrombin which is required for normal blood clotting.
Benefits of K2:
Contributes to normal blood clotting
Supports the maintenance of bones
Benefits of Iodine
Iodine contributes to normal cognitive function
Iodine contributes to the maintenance of normal skin
Iodine contributes to normal energy-yielding metabolism
Iodine contributes to normal functioning of the nervous system
Iodine contributes to the normal production of thyroid hormones and normal thyroid function
Benefits of Selenium:
Selenium contributes to the normal thyroid function
Selenium contributes to the maintenance of normal hair
Selenium contributes to the maintenance of normal nails
Selenium contributes to the normal function of the immune system
Selenium contributes to the protection of cells from oxidative stress
NMN-XR Review
As an athlete and older individual this product is helping me to have better endurance with tougher workouts along with incredible muscle recover. Energy throughout the day with deep sleep.
My skin illuminates
I have been using TheraDermis NMN DAY for 5 weeks now and I've noticed very positive changes to my skin appearance and wrinkles reduction. My age is slightly above 50 and I look and feel younger. Nothing can bit a nice compliment from my sister-in-law who said that skin on my forehead looks like it has been ironed: smooth and illuminating . She is extremely fussy when it comes to beauty products but seeing my great results with TheraDermis NMN DAY - she is going to get this wonderful product herself. I highly recommend it!
Amazing
I love this product. It totally cleanses and refreshes my skin.
Wow! Game changer
I had been suffering from fatigue and tiredness for a while, until my friend recommended me to try energise X. I tried going doctors for bloods incase I am lacking in certain vitamins, they said all good. So I thought I'd try these, and honestly they have changed the way I feel completely! More energy, more alert, just feeling better all round! I had great advice from the company, so I teamed energise X with energise 1. Feel amazing. I look in the mirror and can tell the difference! Thank you biotech 🙏🏼
Fantastic!
Since using this I am back into my fitness routine, Energise X really has helped me through my menopause, I have more energy and mental clarity. I wanted a product that supports my health now and in the future. Thanks you BioTech.