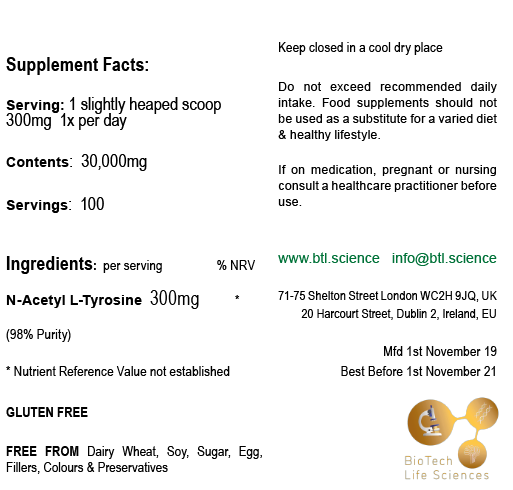 1 Serving Per Day = 300mg
Total Servings = 100 Powder (3+ month supply)
The ingredients in this formula have been chosen by our in-house researcher for their high-quality properites.
We are a member of the Health Foods and Manufacturer's Association (HFMA) which is an authoritative voice of the natural health industry which requires us to undergo extensive approval from a 3rd party regulator.
This product is Vegan and has Zero GMOs.
High-Quality N-Acetyl L-Tyrosine Powder 98% Purity
Powder-Form = Easy To Consume in Drink or Food
Gluten-Free, Vegan and Allergy Friendly
100% Natural and Non-GMO
3+ Month Supply
At a certain age, I needed to research rejuvenation and longevity and came to read Prof Sinclair from Harvard. Examination of products led me to Biotech.
For two years, I have taken MNM and regularly other boosters. I have found what I need and am very happy with Biotech's products and services it. A pleasure to write it. J.G. Belgium
An Excellent Supplement
This is a great supplement, noticed a positive difference in my energy within a couple of days. I really appreciate the high quality ingredients and its an easy size pill to take. Will definitely use this brand again, I highly recommend them.
Amazing supplement!
Since I started taking it I feel much more energetic. Also my immune system is stronger! I'll definitely keep taking this supplement.