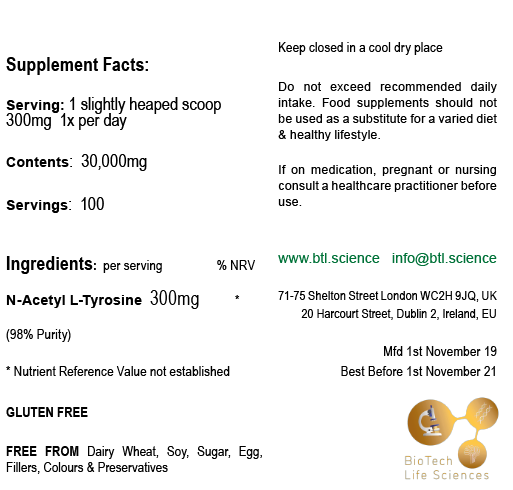 1 Serving Per Day = 300mg
Total Servings = 100 Powder (3+ month supply)
The ingredients in this formula have been chosen by our in-house researcher for their high-quality properites.
We are a member of the Health Foods and Manufacturer's Association (HFMA) which is an authoritative voice of the natural health industry which requires us to undergo extensive approval from a 3rd party regulator.
This product is Vegan and has Zero GMOs.
High-Quality N-Acetyl L-Tyrosine Powder 98% Purity
Powder-Form = Easy To Consume in Drink or Food
Gluten-Free, Vegan and Allergy Friendly
100% Natural and Non-GMO
3+ Month Supply
Great supplement
It has been a total game-changer for me! Feeling good and calm has never been easier. It helps me relax and supports better sleep, leaving me refreshed and energized. Plus, the added benefits for heart health and fat metabolism are a huge bonus. I highly recommend this supplement for anyone seeking a natural way to reduce stress and embrace a more balanced lifestyle. It's simply pure bliss in a bottle!
Cardio inmune
I'm amazed with the results of the product. Since I made biotech products part of my life I feel so much better, I highly recommend it, I love the fact that everything it's completely natural, my body can tell!
At a certain age, I needed to research rejuvenation and longevity and came to read Prof Sinclair from Harvard. Examination of products led me to Biotech.
For two years, I have taken MNM and regularly other boosters. I have found what I need and am very happy with Biotech's products and services it. A pleasure to write it. J.G. Belgium
An Excellent Supplement
This is a great supplement, noticed a positive difference in my energy within a couple of days. I really appreciate the high quality ingredients and its an easy size pill to take. Will definitely use this brand again, I highly recommend them.
Amazing supplement!
Since I started taking it I feel much more energetic. Also my immune system is stronger! I'll definitely keep taking this supplement.