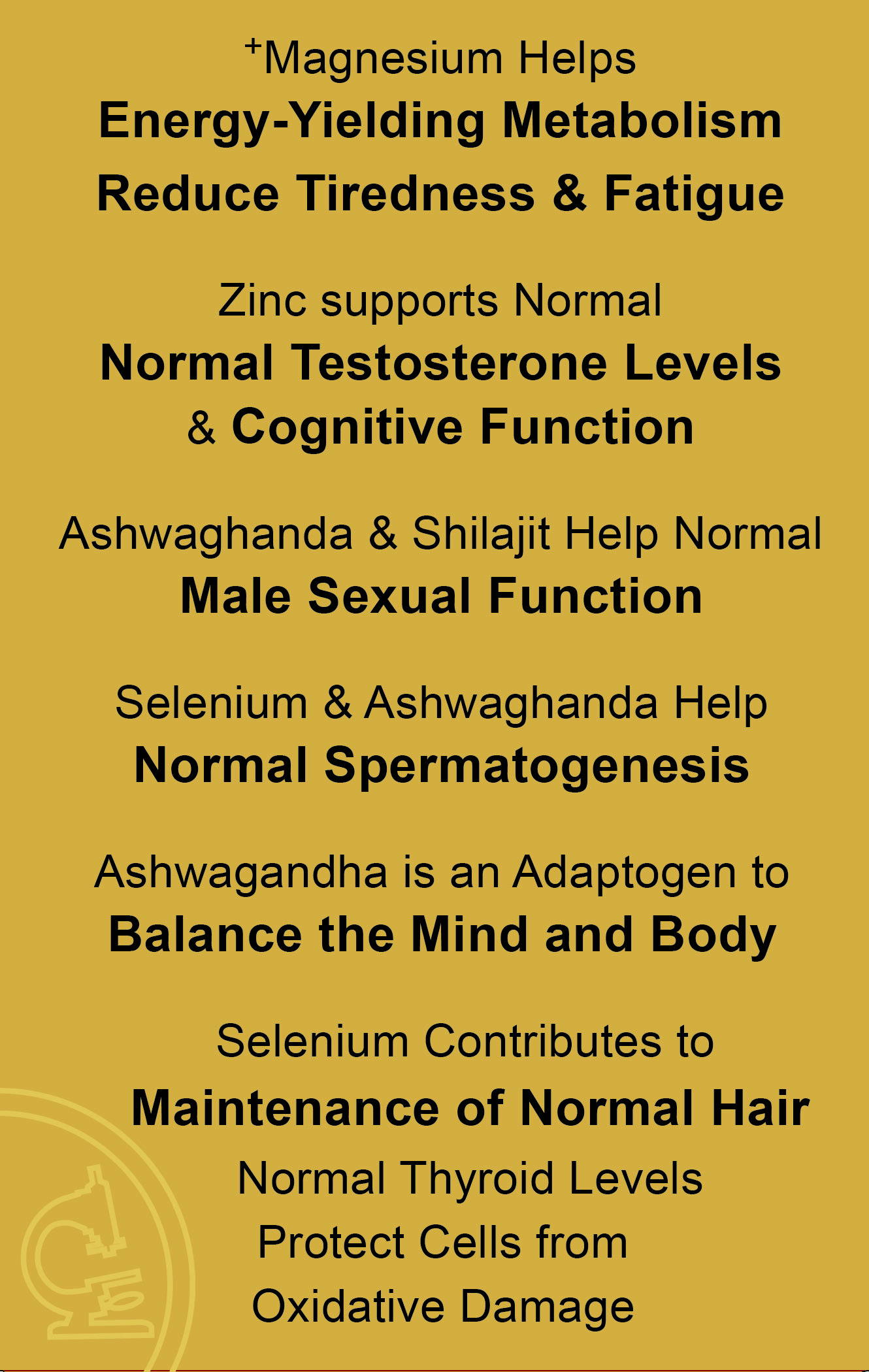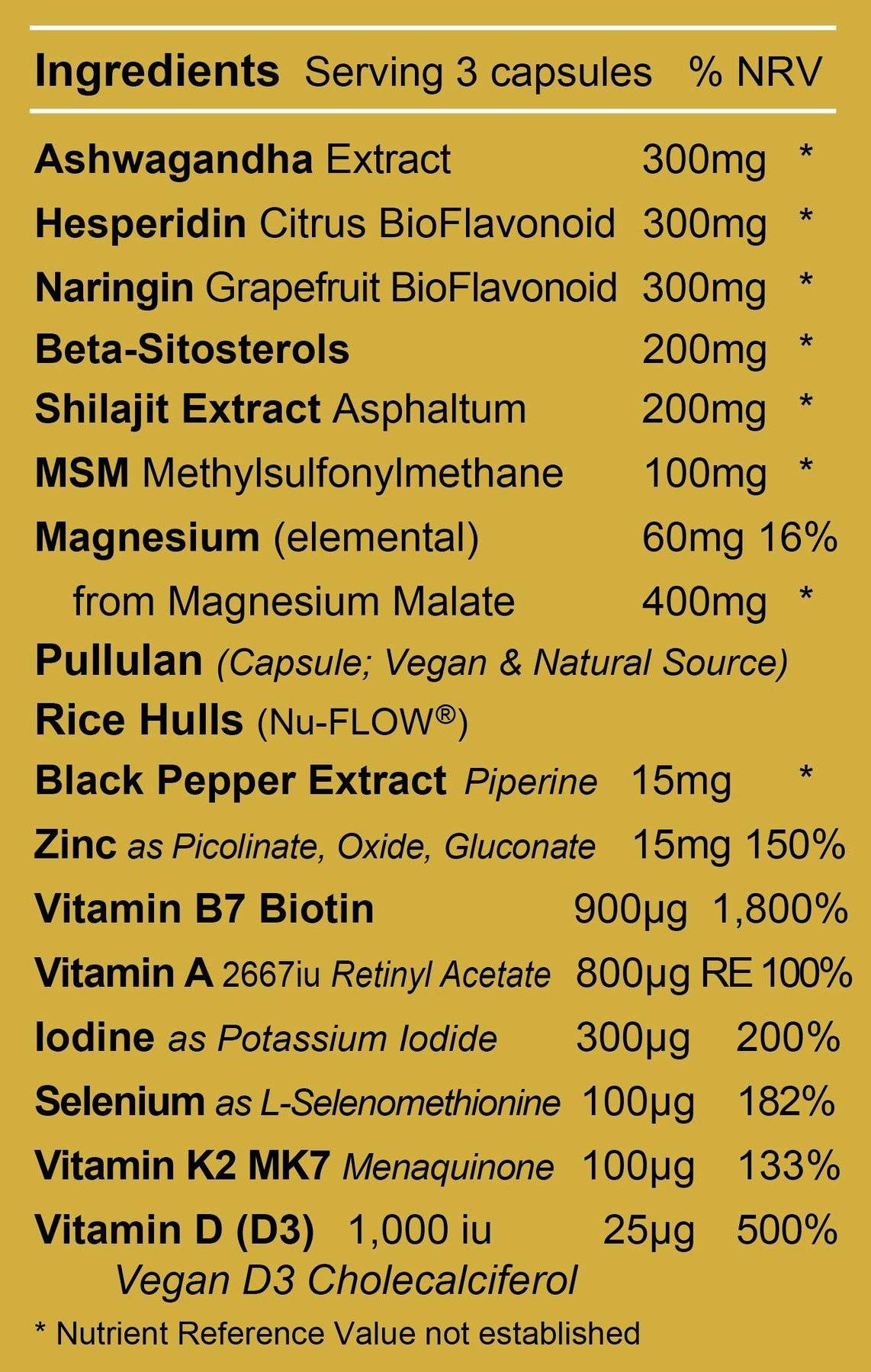 1 Serving Per Day = 3 Capsules
Total Servings = 30
90 Vegan Capsules
The ingredients in this formula have been chosen by our in-house researcher for their vitality supporting properties.
Member of Health Food Manufacturer's Association
We are a member of the Health Foods and Manufacturer's Association (HFMA) which is an authoritative voice of the natural health industry.
This product is Vegan and has Zero GMOs.
---
Ashwaghanda - 300mg
Ashwaghanda (Withania somnifera) is a staple herb used in Ayurveda, also known as Indian Ginseng or Winter Cherry.
It is organically grown in India and is only extracted from the Ashwaghanda root, never the leaves. The reason for this is that the root is the primary part of the plant used in Ayurveda.
Hesperidin - 300mg
Hesperidin, a flavonoid derived from citrus fruits that many experts believe has synergistic activity with vitamin C.
Beta-Sitosterol - 200mg
Beta-Sitosterol is a sterol found in almost all plants.
It contains phytosterols which are found in plant cell membranes.
Shilajit - 200mg
Shilajit is a substance primarily found in the rocks of the Himalayas which develops over centuries from the slow decomposition of plants.
Different types of Shilajit can look like black tar or a brownish powder.
It is commonly used in ayurvedic medicine and is rich in fulvic and humic compounds.
MSM - 100mg
MSM stands for Methylsulfonylmethane and it is an organic sulphur compound.
It's one of the most common elements in the body and a component of chondroitin sulphate in cartilage.
MSM is important for mobility & stability of joints and the structure of skin, nails and hair.
Magnesium Elemental - 60mg
Magnesium Malate - 400mg
Magnesium Malate is a highly bioavailable magnesium chelate.
Benefits of Magnesium
Contributes to normal muscle function
Contributes to normal protein synthesis
Contributes to a reduction of tiredness and fatigue
Contributes to normal functioning of the nervous system
Iodine as Potassium Iodide - 300ug
Benefits of Iodine
Contributes to normal functioning of the nervous system
Contributes to normal energy-yielding metabolism
Contributes to normal cognitive function
Selenium as L-Selenomethionine - 100ug
Selenium is an essential trace mineral used by the body for various functions.
Benefits of Selenium
Contribute to the normal functioning of the immune system
Contributes to the protection of cells from oxidative stress
Contributes to normal energy-yielding metabolism
Vitamin A - 800ug
Vitamin A, also known as retinol, is a fat-soluble vitamin that has several important functions in maintaining overall health and wellbeing.
Benefits of Vitamin A:
Vitamin A contributes to normal iron metabolism
Vitamin A has a role in the process of cell specialisation
Vitamin A contributes to the normal function of the immune system
Vitamin B7 (Biotin) - 900ug
Vitamin B7 - 900ug
Also known as Biotin, Vitamin B7 is an essential vitamin that helps maintain healthy hair, skin, nails and mucus membranes.
You can find it naturally in fish, nuts, dairy, leafy green, mushrooms and pulses, but as it is water-soluble, the body doesn't store it.

Benefits of Biotin
Supports the maintenance of normal skin & hair and mucus membranes
Contributes to normal macro-nutrient metabolism
Contributes to normal psychological function
Vitamin K2 - 100ug
High-quality Vitamin K supplement
Contributes to normal blood clotting
Supports the maintenance of bones
Vitamin D3 - 1,000iu
Known as the "Sunshine Vitamin", Vitamin D is crucial for our survival and we have included a Vegan Vitamin D3 Cholecalciferol.
Benefits of Vitamin D3
Vitamin D contributes to the maintenance of normal muscle function
Vitamin D contributes to the maintenance of normal bones & the normal function of the immune system