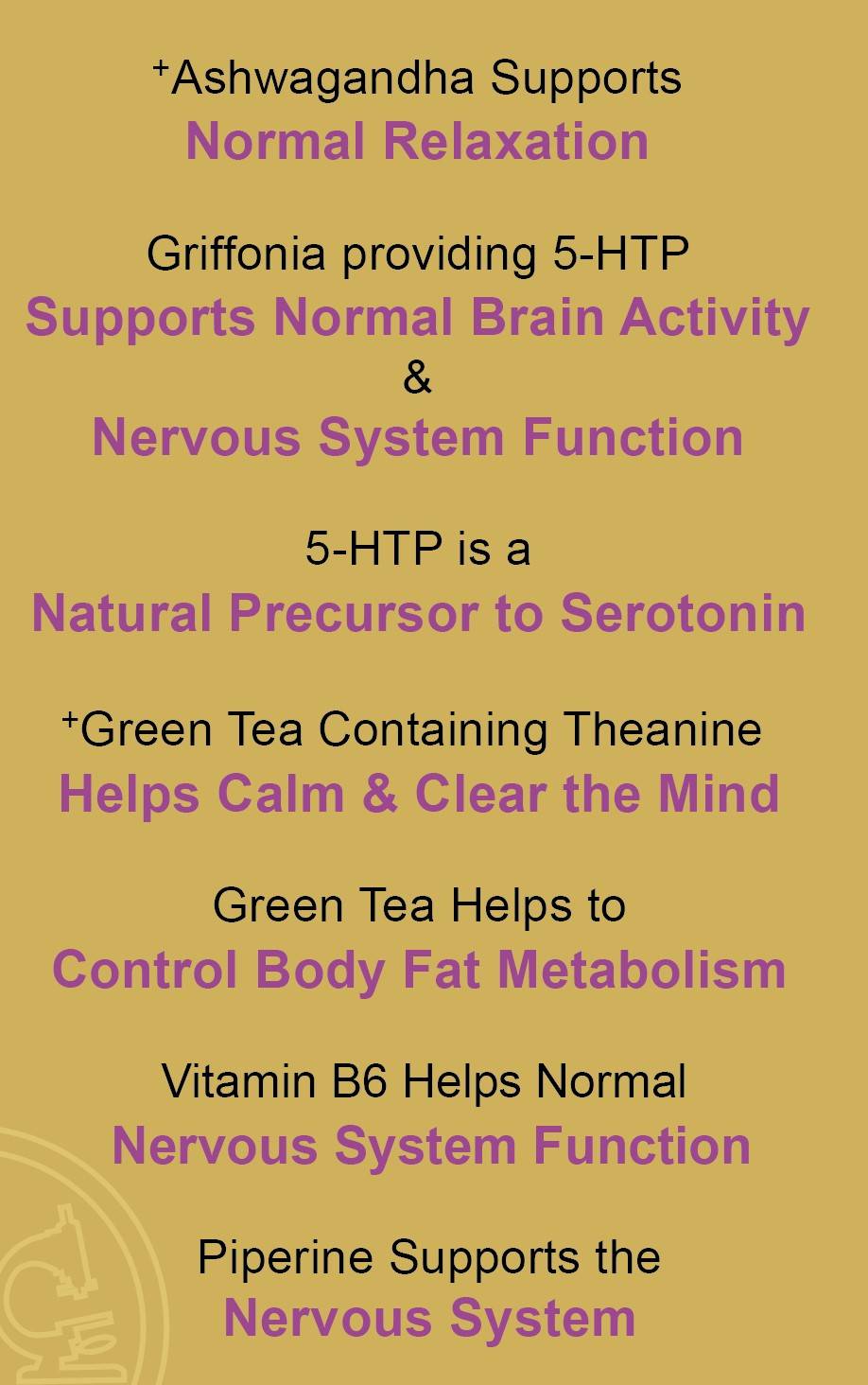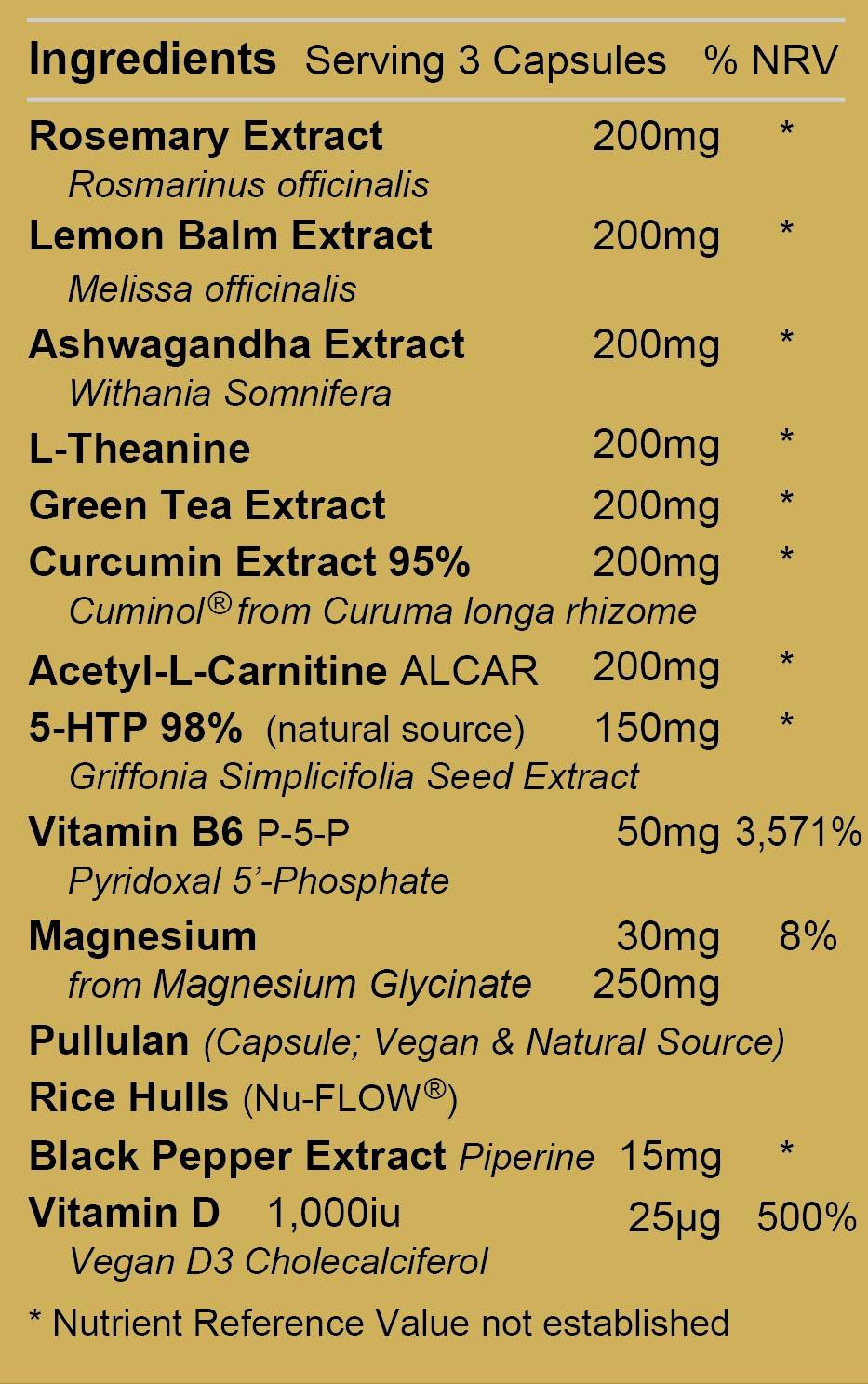 1 Serving Per Day = 3 Capsules
Total Servings = 30
90 Vegan Capsules
Women looking for a formula that helps support normal relaxation and help calm and clear the mind.
The ingredients in this formula have been chosen by our in-house researcher for their relaxation and soothing properties.
We are a member of the Health Foods and Manufacturer's Association (HFMA) which is an authoritative voice of the natural health industry which requires us to undergo extensive approval from a 3rd party regulator.
This product is Vegan and has Zero GMOs.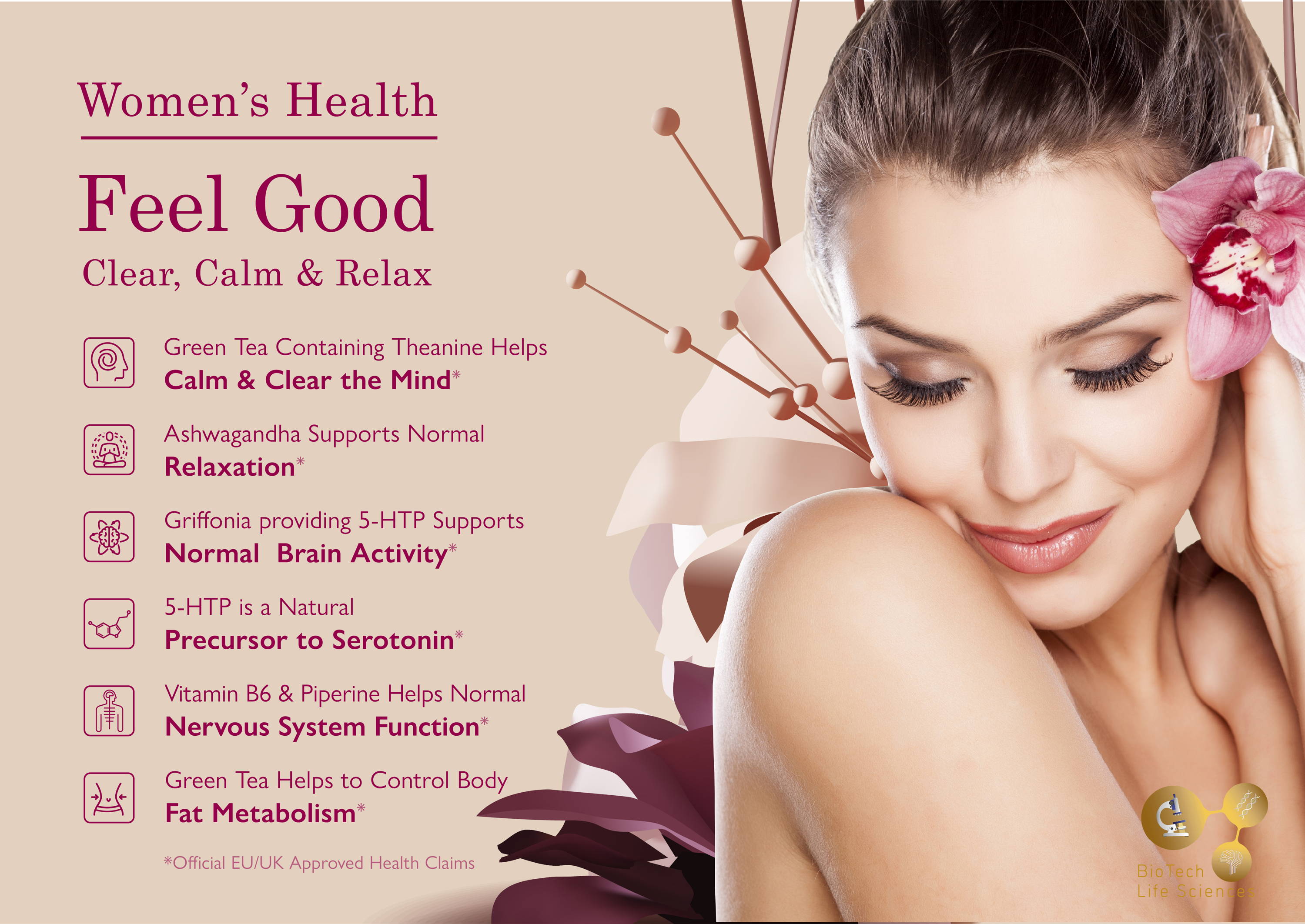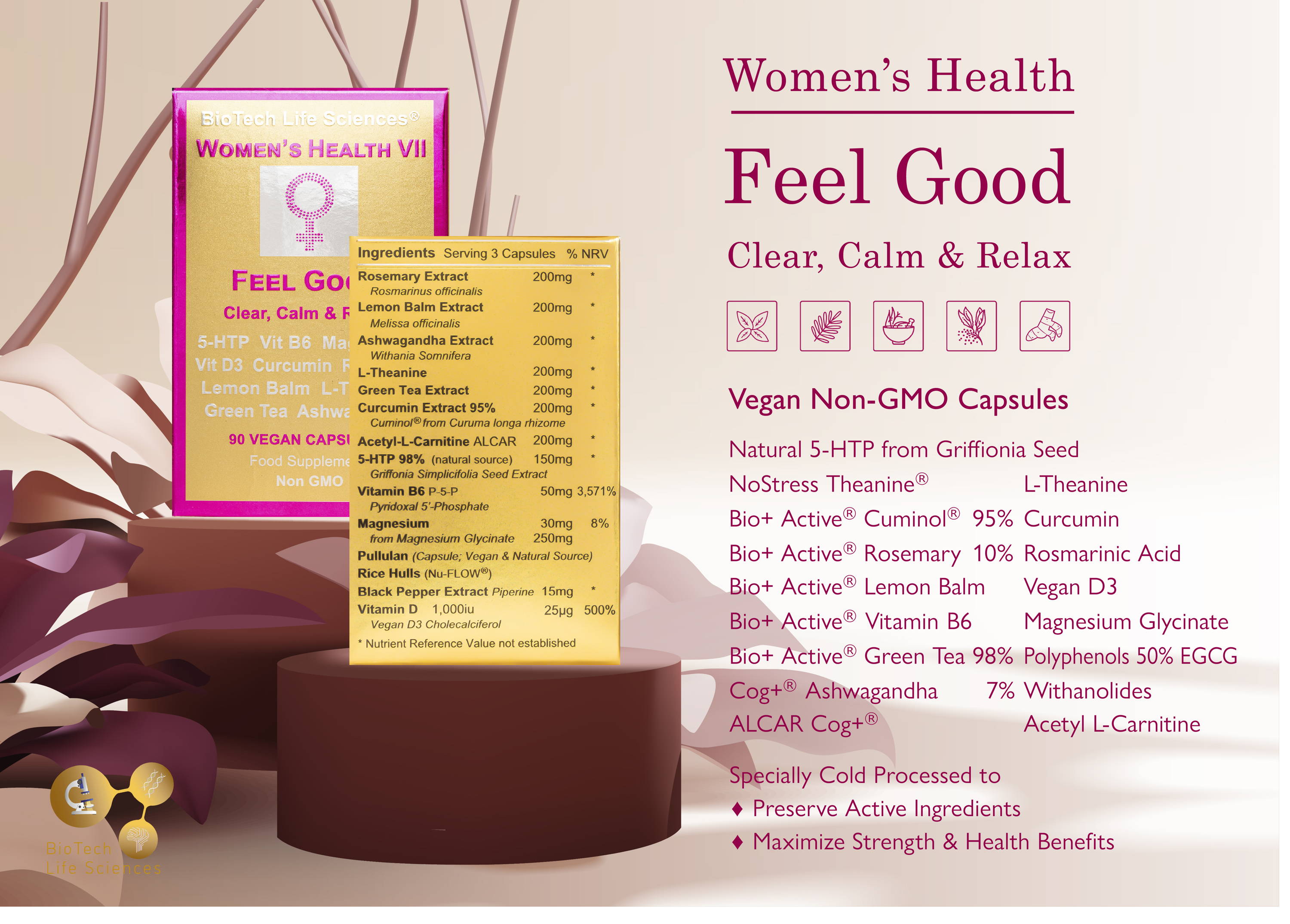 Premium Menopause Supplement
We use the best ingredients that we can find and combine them into one formula for optimal results.
Many companies will choose a cheaper & more synthetic variation of an ingredient, but we always choose the best.
Tip: just because a supplement says it has an ingredient, it doesn't mean it's the same - there are multiple variants of an ingredient such as Ashwagandha!
We've included the most well-known supplements to support a calm and clear mind.
Ashwagandha, Lemon Balm, 5-HTP, L-Theanine and Magnesium are vital ingredients.
Unfortunately, due to (ridiculous) laws that prevent us from saying what an ingredient can truly do for your health, we have to stick to government guidelines on what they have approved.
Please feel free to search the ingredients included in this formula in Google for a true understanding of how they can help you.
We are passionate about having the highest-quality ingredients to protect our customers health.
This product is Vegan and Non-GMO and we use ZERO fillers or added synthetics.
We use Pullulan which is Vegan and a Natural Source for our capsules.
Ashwaghanda - 200mg
Ashwaghanda (Withania somnifera) is a staple herb used in Ayurveda, also known as Indian Ginseng or Winter Cherry.
It is organically grown in India and is only extracted from the Ashwaghanda root, never the leaves. The reason for this is that the root is the primary part of the plant used in Ayurveda.
L-Theanine - 200mg
L-Theanine is an amino acid found in green tea which is what gives tea its calming effect.
Green Tea Extract - 200mg
Curcumin Extract 95% - 200mg
Curcumin Extract 95% - 200mg
Acetyl-L-Carnitine (ALCAR) - 250mg
Acetyl-L-Carnitine (ALCAR) - 250mg
ALCAR is created in the body from lysine and methionine which are amino acids.
Carnitine helps transfer fat to mitochondria and is made in the liver and kidneys where it is then stored in the skeletal muscles, heart and brain.
5-HTP - Griffonia - 150mg
5-HTP 98% from Natural Source (Griffonia Simplicifolia Seed Extract) - 150mg
5-HTP is made by the body from the amino acid tryptophan, which is then changed into the neurotransmitter known as serotonin.
It is an isolated nutrient and the building block to your feel good chemical; serotonin.
Vitamin B6 (P-5-P) - 50mg
Benefits of Vitamin B6
Contributes to the reduction of tiredness and fatigue
Contributes to normal functioning of the nervous system
Magnesium Malate - 500mg
Benefits of Magnesium:
Magnesium contributes to normal functioning of the nervous system
Magnesium contributes to a reduction of tiredness and fatigue
Magnesium contributes to normal energy-yielding metabolism
Magnesium contributes to normal psychological function
Magnesium has a role in the process of cell
Vitamin D3 - 1,000iu
Known as the "Sunshine Vitamin", Vitamin D is crucial for our survival and we have included a Vegan Vitamin D3 Cholecalciferol.
Benefits of Vitamin D3
Vitamin D contributes to the maintenance of normal muscle function
Vitamin D contributes to the maintenance of normal bones & the normal function of the immune system
Quality product
I feel a surge of energy upon taking in the morning also seems to help my with elevated mood. Tastes and feels like a quality product I am glad I invested in myself
NMN-XR
I'm 46 year old male and I've been exercising since my late teens mostly with weights, but also cardio vascular, including circuit training. With each passing year I have noticed a reduction in energy, motivation and strength. NMN-XR has helped bring back the intensity that I missed over the past 4 to 5 years. I'm also seeing an improvement in strength and endurance. I've also noticed a significant improvement in my complexion and don't seem to look as tired. Cheers!
Youth and vitality
The most meaningful gift I gave myself for my upcoming 50th anniversary is a subscription to MNM and resveratrol. I get compliments on the vision and the youthful skin of the face. No one knows my real age. Full of energy and life without pain in joints and muscles.
5️⃣ STARS ⭐️
Thank you so much for all the gifts you send me on my subscription .I feel so good my skin is plump, my hair is beautiful and shiny. I don't have hot flashes from menopause and I feel great!!! Thank you
Get up & go!
Took a while to notice but not taking NMN definitely lowered my energy- it helped especially when I took it with TMG.