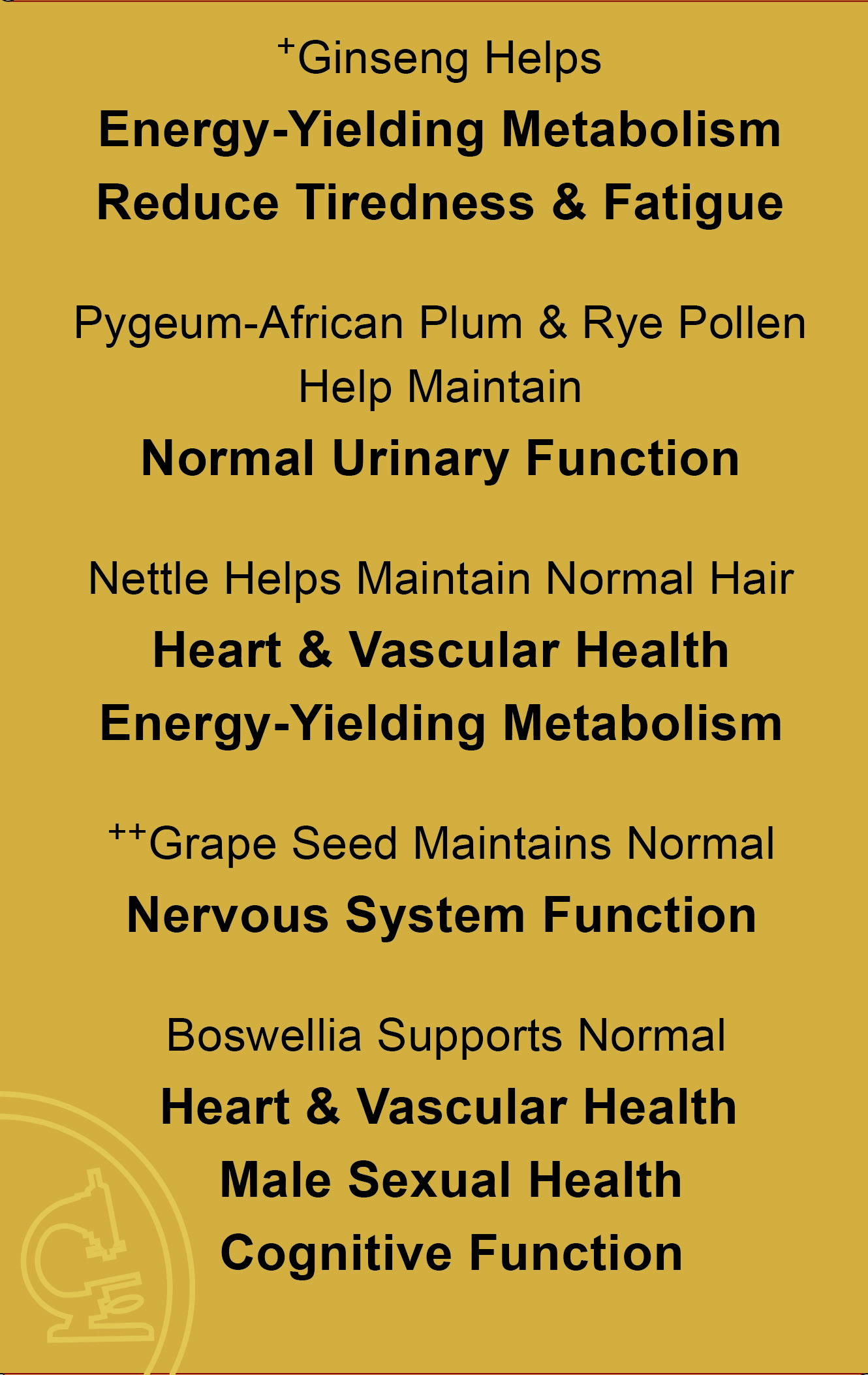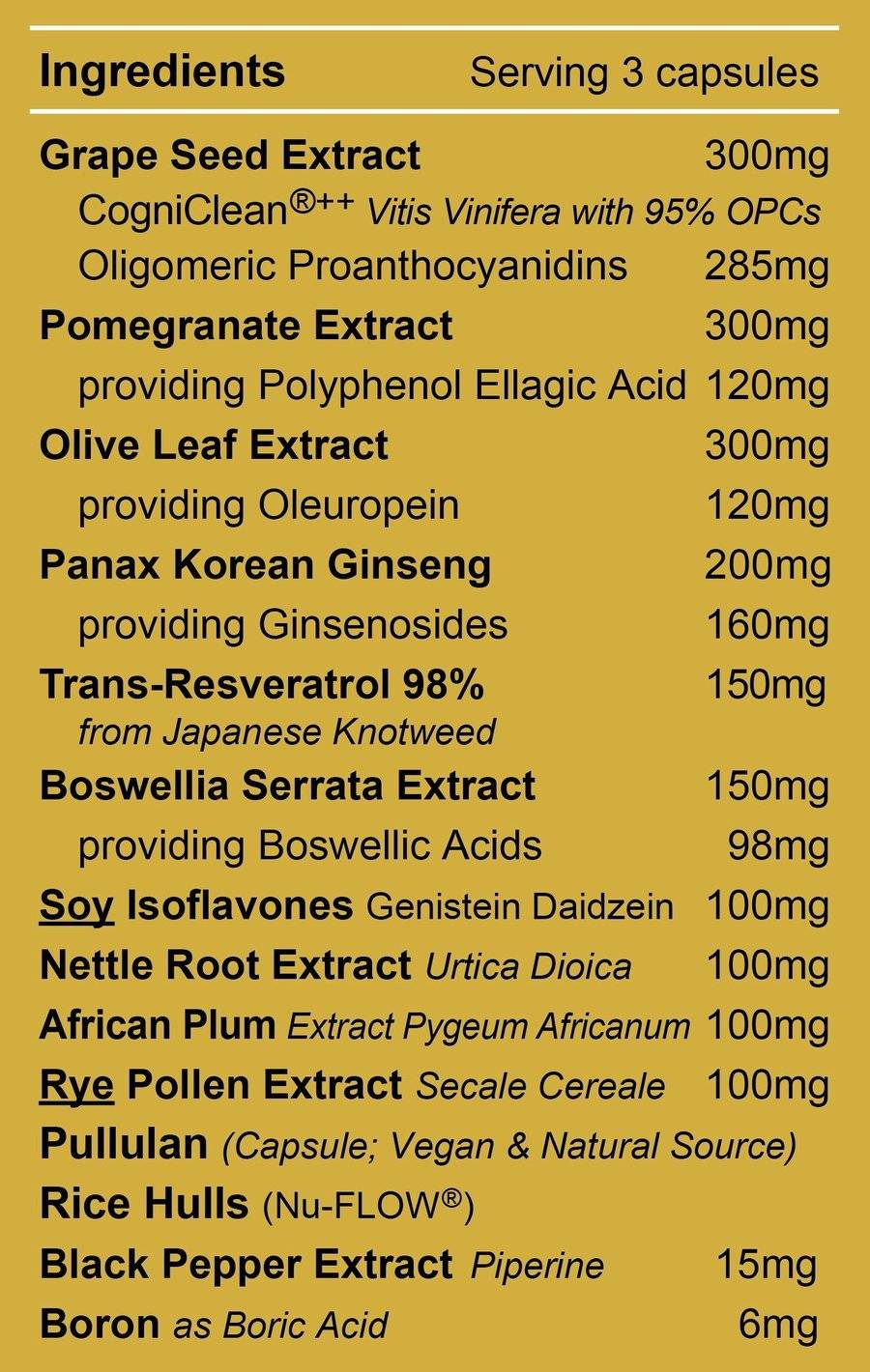 1 Serving Per Day = 3 Capsules
Total Servings = 30
90 Vegan Capsules
The ingredients in this formula have been chosen by our in-house researcher for their vitality supporting properties.
We are a member of the Health Foods and Manufacturer's Association (HFMA) which is an authoritative voice of the natural health industry which requires us to undergo extensive approval from a 3rd party regulator.
This product is Vegan and has Zero GMOs.
---
Grape Seed Extract - 300mg
Grape Seed Extract - 300mg
Vitis Vinifera with 95% OPCs
Oligomeric Proanthocyanidins - 285mg
Grape Seed Extract has been used since ancient times and has been used for its high concentrations of antioxidant compounds such as flavonoids, catechins and proanthocyanidins.
GSE is also rich in quercetin and resveratrol.
Pomegranate Extract - 300mg
Pomegranate Extract - 300mg
Ellagic Acid - 120mg
Pomegranate Extract contains Ellagic Acid which is the main active ingredient in pomegranates.
Olive Leaf Extract - 300mg
Olive Leaf Extract - 300mg
Oleuropein - 120mg
Olive Leaf extract is extracted from the leaves of the Olive tree and has numerous health benefits.
Olive Leaf Extract contain consistent and reliable levels of the active plant compounds.
Natural Olive Leaf Extract is a supplement which can be used daily to support general day to day wellbeing.
Panax Korean Ginseng - 200mg
Panax Korean Ginseng - 200mg
providing Ginsenosides - 160mg
Panax Korean Ginseng contain ginsenosides which are the most potent active ingredients that contribute to physical and mental well-being.
Supports and contributes to the body's natural defences and the immune system
Support energetic alertness
Trans-Resveratrol 98% - 150mg
Trans-Resveratrol 98% - 150mg
Made famous for high-concentrations being found in red wine and grapes, resveratrol is an anti-aging powerhouse.
Boswellia Serrata - 150mg
Boswellia Serrata Extract = 150mg
providing Boswellic Acids = 98mg
Also known as Indian Frankincense, providing 130mg of Boswellic Acids.
Legislation prohibits us from talking about herbs and their applications, however, there is a wealth of information available online about the uses of these over many years.
Soy Isoflavones (Genistein Daidzein) - 100mg
Isoflavones are naturally occurring plant compounds that are concentrated in soybeans which contain genistein.
Isoflavones may support bone health and it is a common nutrient found in long-living populations such as the Okinawans.
Nettle Root Extract - 100mg
Nettle Root Extract supports prostate health with the root of the stinging nettle plant containing compounds that inhibit the conversion of testosterone into dihydrotestosterone.
This conversion is thought to support a healthy prostate and improve the flow of urine.
The African Plum is a fruit tree native to Africa which supports Prostate & Urinary Health in Men.
It also may promote sexual health and reduce inflammation.
Ryan Pollen Extract - 100mg
Rye Pollen has been found to contain over a hundred different nutritional components such as minerals, trace elements, amino acids, liponic acids, nucleic acids, enzymes & anti-bacterial substances.
Rye Pollen may help maintain bladder health & stability.
It also supports healthy prostate function and promote urinary flow.
Boron (Boronic Acid) - 6mg
Boron is a mineral that can be found in whole foods such as beans, nuts and avocados and also traces of it can be found in our drinking water.
It's an important mineral for vegans and vegetarians.