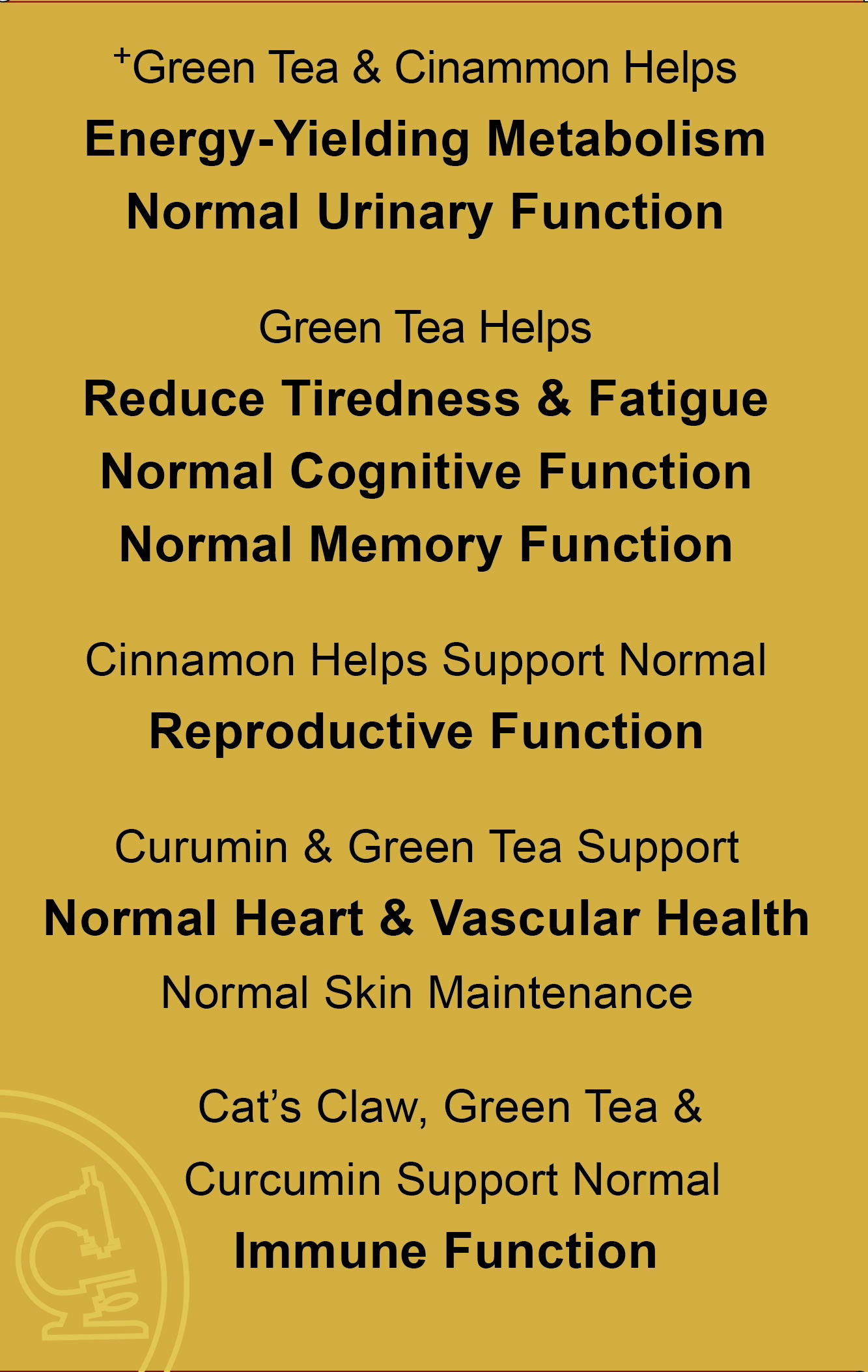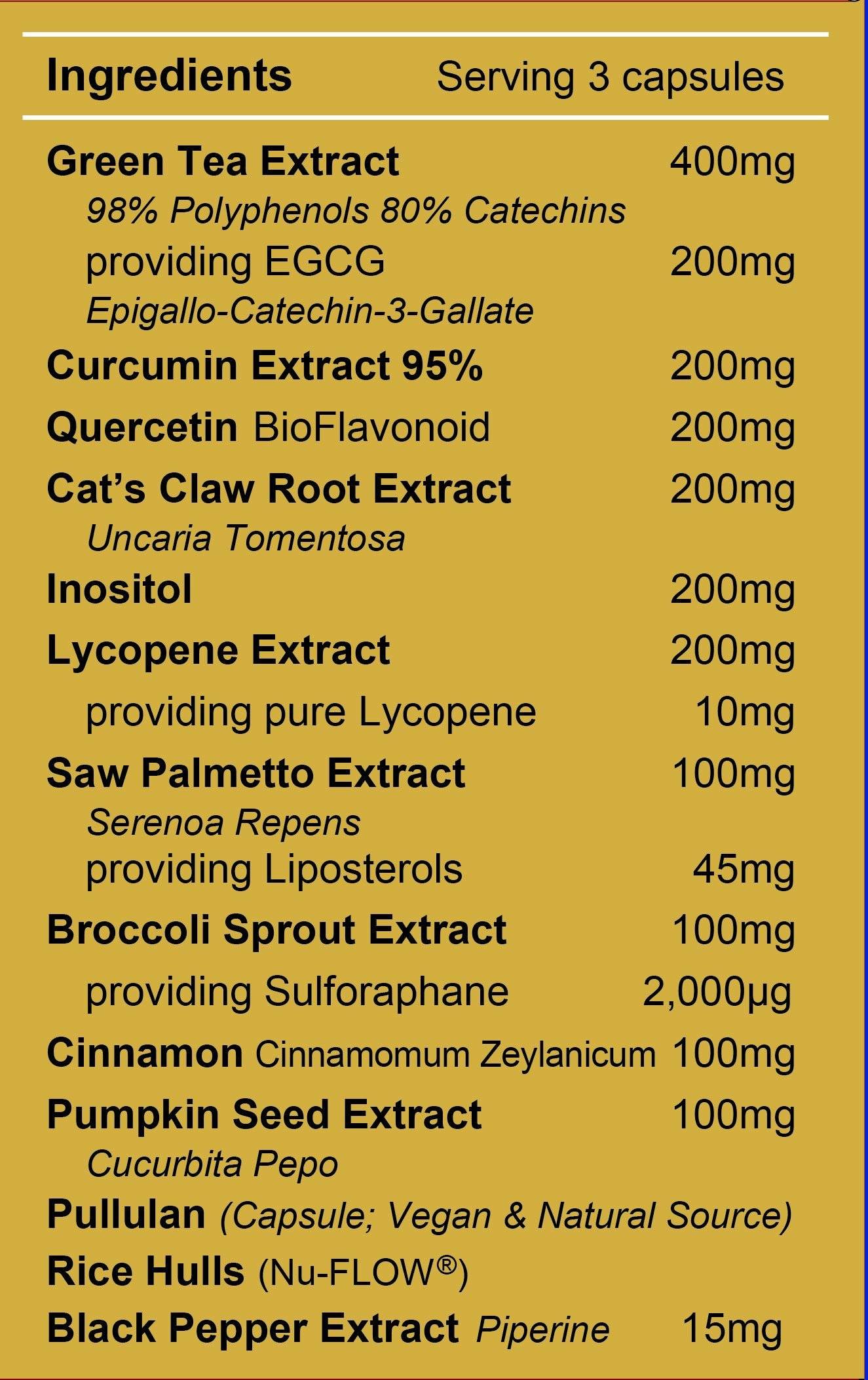 1 Serving Per Day = 3 Capsules
Total Servings = 30
90 Vegan Capsules
The ingredients in this formula have been chosen by our in-house researcher for their vitality supporting properties.
Member of Health Food Manufacturer's Association
We are a member of the Health Foods and Manufacturer's Association (HFMA) which is an authoritative voice of the natural health industry.
This product is Vegan and has Zero GMOs.
---
Green Tea Extract 400mg & EGCG 200mg      
Green Tea Extract 98% Polyphenols 80% Catechins - 400mg
providing EGCG - 200mg
Green tea contains flavonoids, which are natural phytochemicals.
Curcumin Extract 95% - 200mg
Curcumin Extract 95% - 200mg
Curcumin Extract ensures enhanced bioavailability and absorption due to its micelle structure – making it like no other curcumin extract around.
Curcumin is the active compound in Turmeric (a member of the Ginger family), and the curcuminoids within are what gives the distinctive yellow colour.
Despite it being used as an Ayurvedic medicine for many centuries, Curcumin Extract is now gaining popularity as a food supplement.
Quercetin - 200mg
Quercetin is a plant pigment it is many plants and foods such as red wine, onions, green tea, apples and berries.
Cat's Claw Root Extract - 200mg
Cats Claw Extract - 200mg
Cats Claw (Uncaria Tomentosa) used by the Ashanika Indians for thousands of years originates from the Amazon rain forest is a thick woody vine.
Inositol = 200mg
Inositol, commonly known as Vitamin B8 forms a component of every cell membrane in the body and is found in citrus fruits, lecithin oil, seeds and whole grains.
Lycopene Extract - 200mg
providing pure Lycopene - 10mg
Lycopene is a bright red carotene and is found in tomatoes which is what gives tomatoes their red colour.
Saw Palmetto Extract - 100mg
Saw Palmetto - 100mg
Serenoa Repens providing Liposterols - 45mg
Saw Palmetto is a type of palm native to the South-Eastern states of America.
They are also enriched with fatty acids and phytosterols used for centuries by ancient tribes.
Broccoli Sprout Extract - 100mg + Sulforaphane 2,000ug
Broccoli Sprout - 200mg
Sulforaphane - 2,000ug
Cinnamon (Cinnamomum Zeylancium)- 100mg
Cinnamon is a spice use in many cultures for its sweet taste and has been used since Ancient Egypt from the cinnamon tree.
Pumpkin Seed Extract - 100mg
Pumpkin Seed Extract (Cucurbita Pepo) - 100mg
Pumpkin Seeds can provide a large amount of healthy fats, magnesium & zinc for how small they are.
They contain anti-oxidants such as carotenoids and Vitamin E.
Pumpkin Seeds are also one of the best natural sources of Magnesium which is a crucial mineral missing in the Western diet.