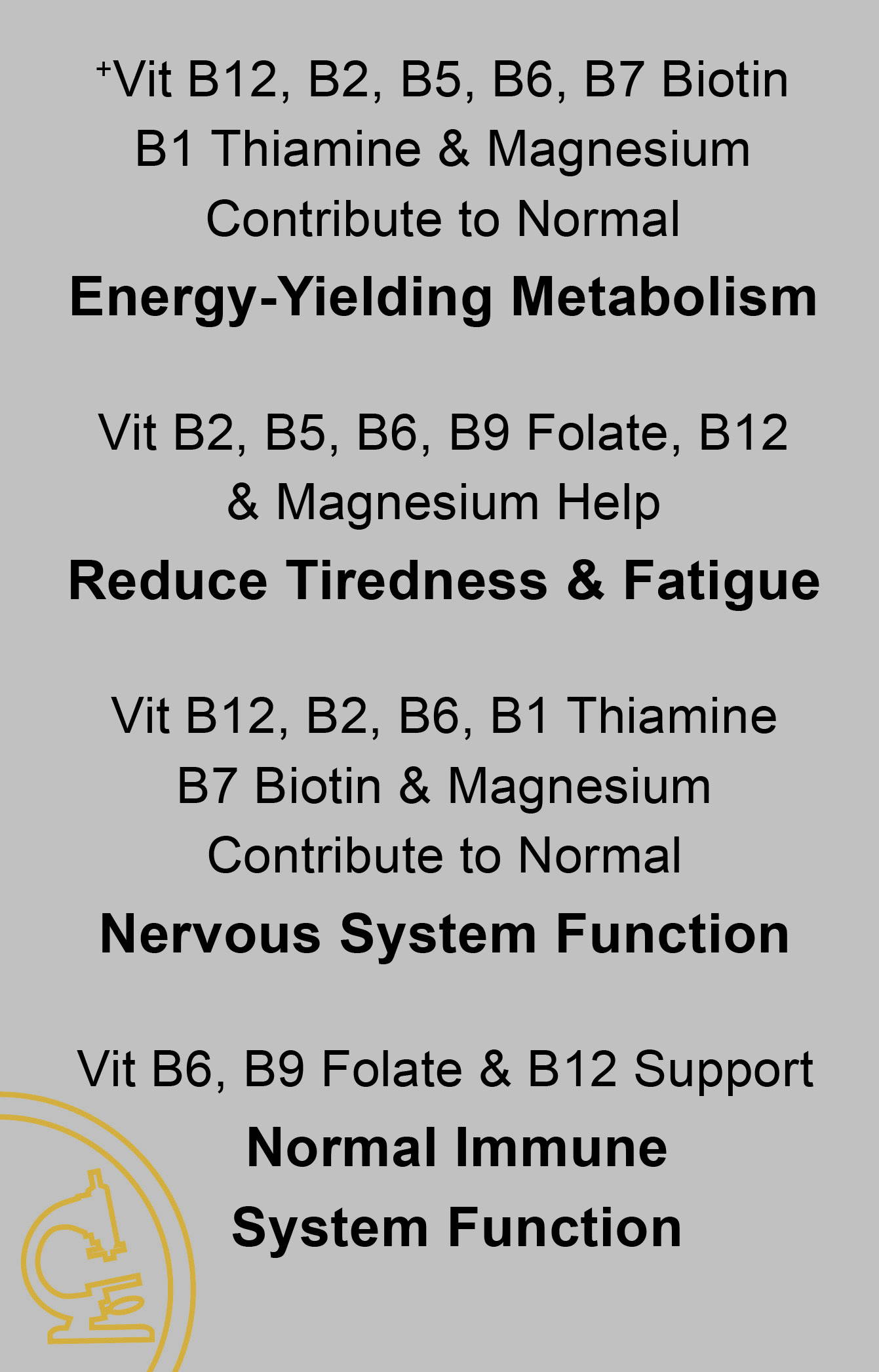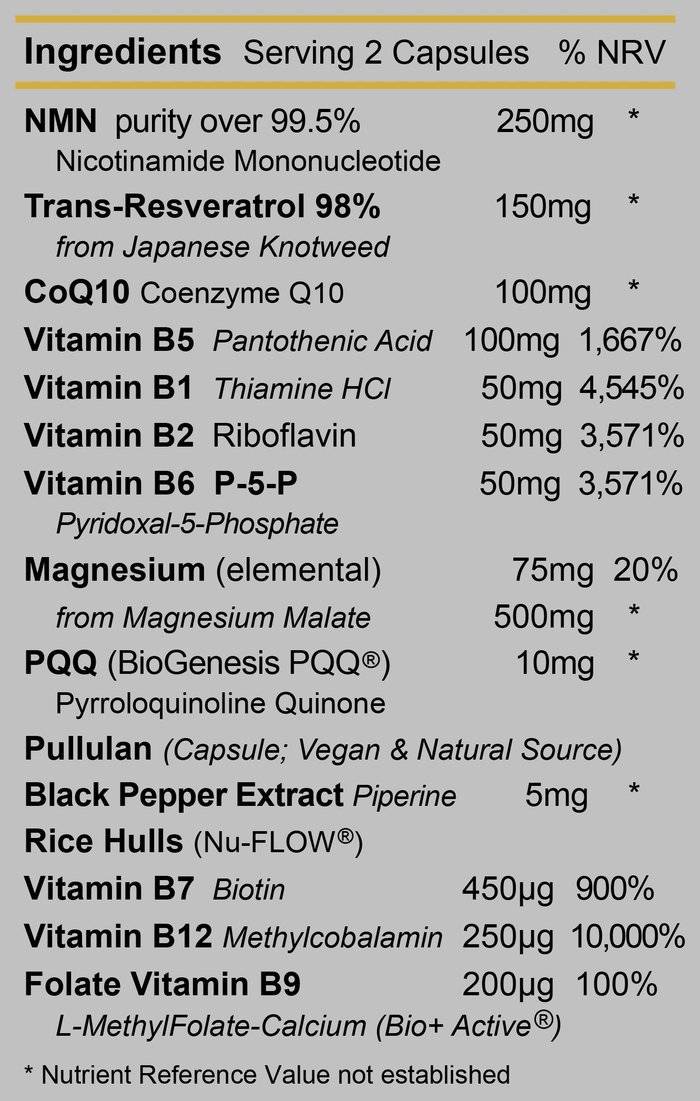 1 Serving = 2 Capsules
Servings = 22 / 45
Total Amount = 45 / 90 Vegan Capsules
Member of Health Food Manufacturer's Association
We are a member of the Health Foods and Manufacturer's Association (HFMA) which is an authoritative voice of the natural health industry.
Vegan, Non-GMO, Gluten Free & Dairy Free
This product is Vegan, Non-GMO and Free From:
Gluten
Dairy
Soy
Egg
Wheat
Colours
Preservatives
Artificial Fillers
We have received certification from a 3rd party lab (image above in 1st tab) that states our NMN having a 99.78% purity.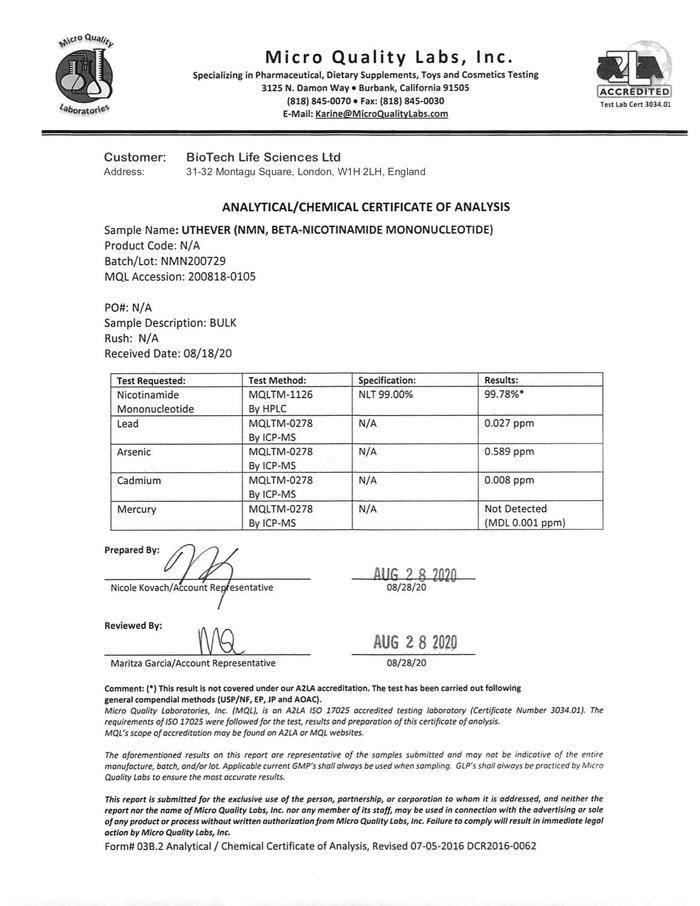 "I'm first and foremost a type 1 diabetic and constantly worried about what's going on inside of me that I can't see. Energise-x has changed my daily habits so much so that everyone is noticing in a good way. My energy levels are consistent. My brain is more cognizant. My appetite is never out of control. My skin and a body look significantly better, too, in that I'm more toned and youthful. Hope this helps" - Kelly Hanahan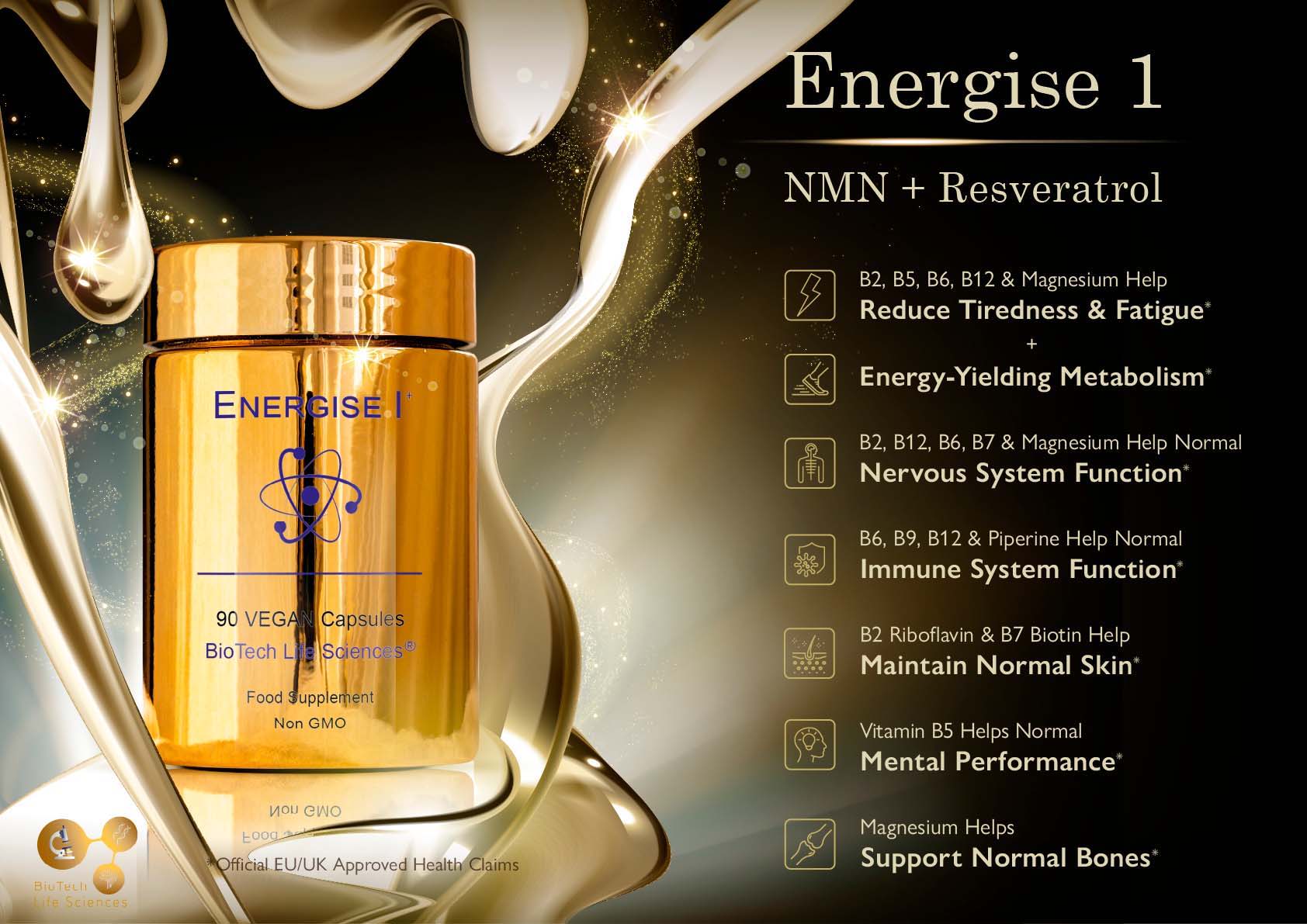 ---
---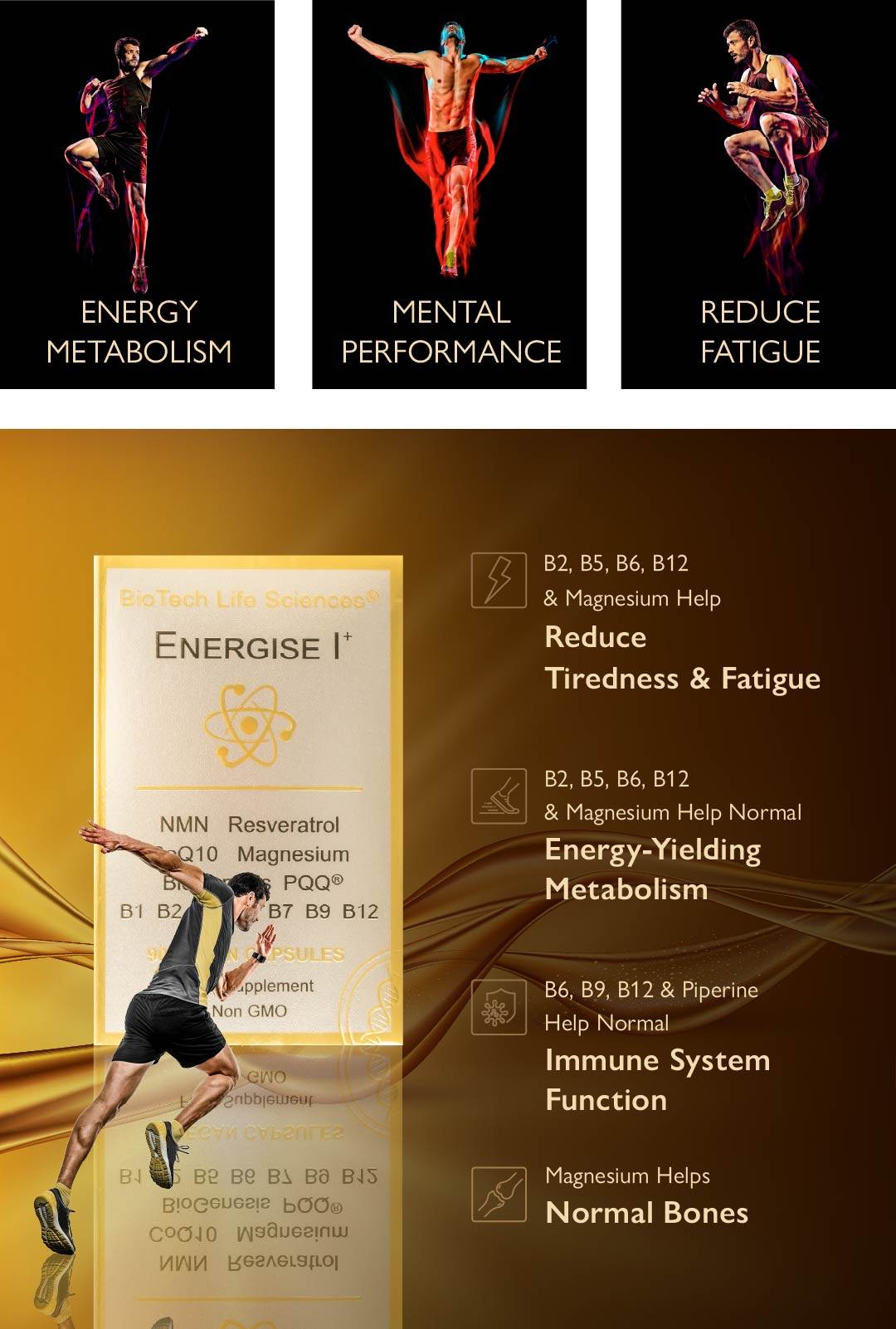 ---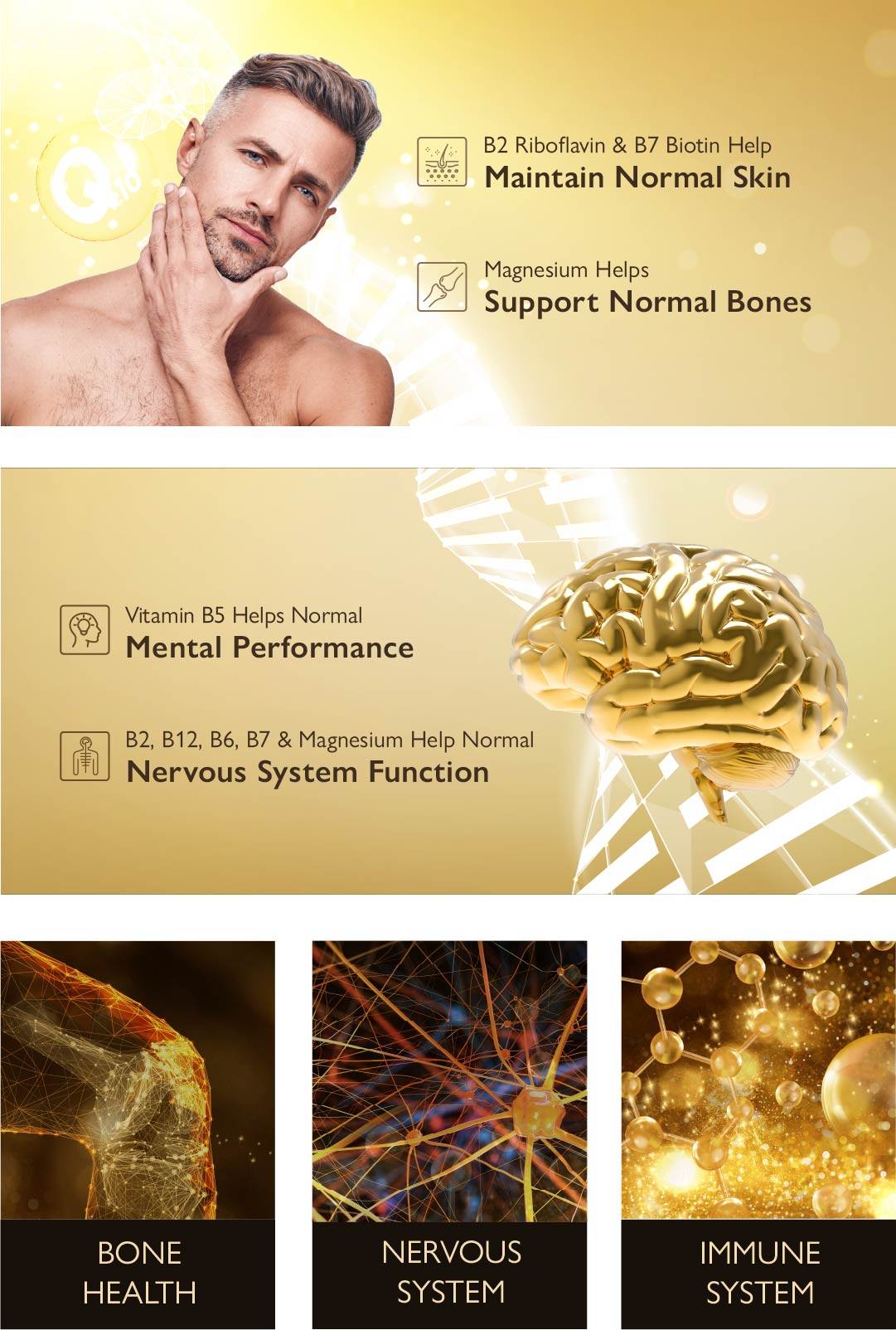 ---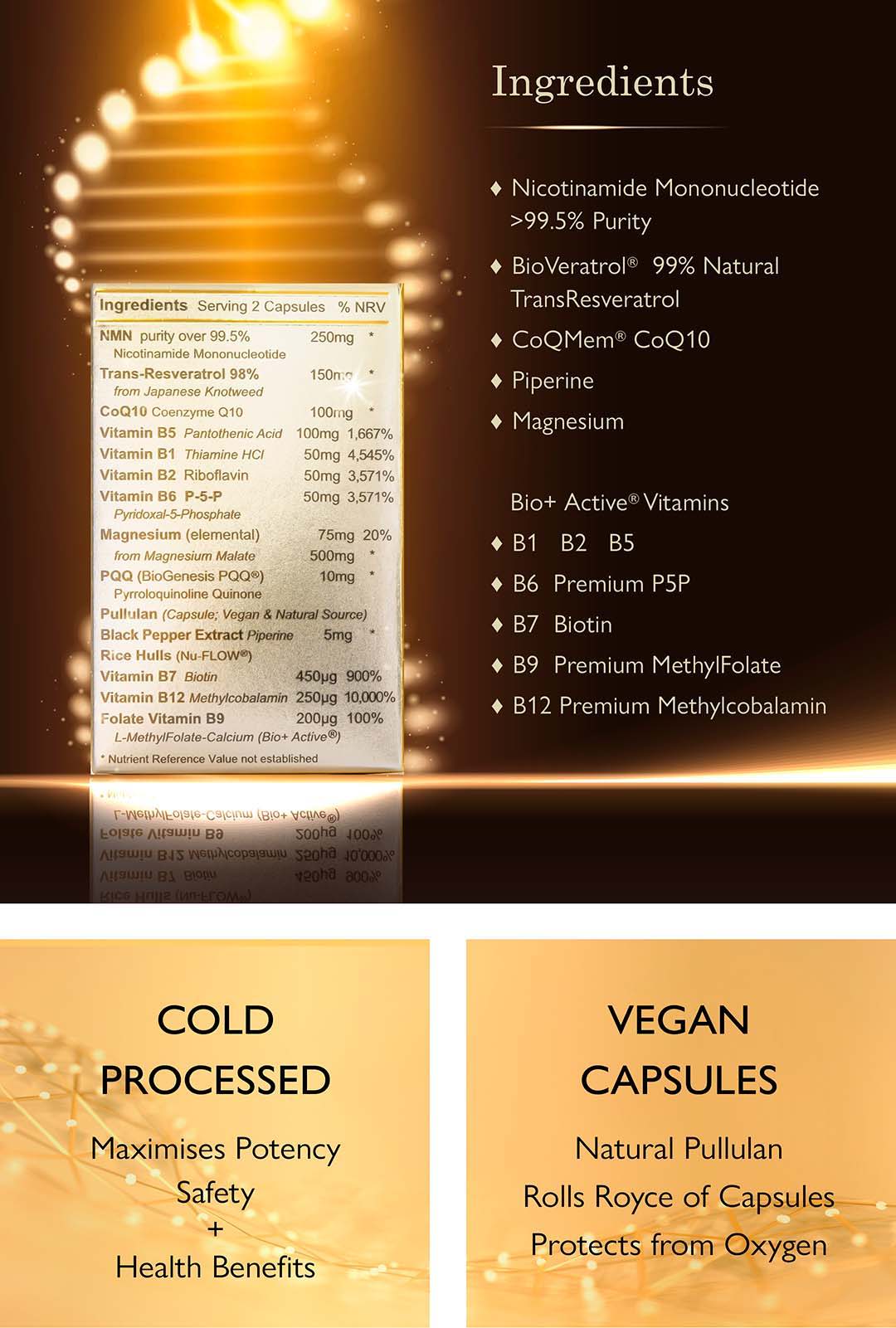 ---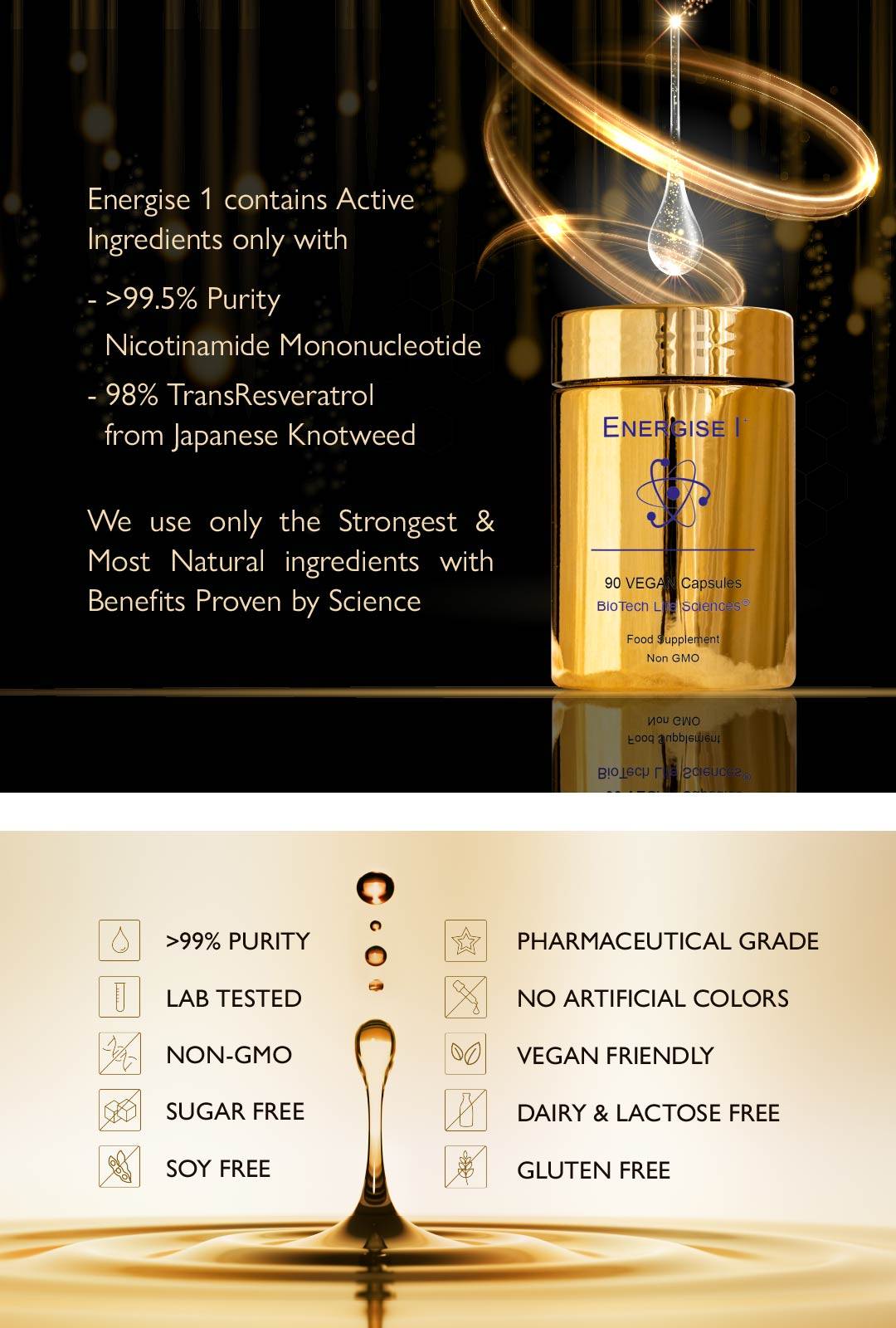 ---
Trans-Resveratrol 98% - 250mg
Trans-Resveratrol 98% sourced from Japanese Knotweed is naturally occurring in red grapes and red wine and we've included the following dose:
Resveratrol - 250mg
In this formula, we have included the following dosages:
NMN - 250mg
CoQ10 (also known as Co-Enzyme Q10) is a compound that generates energy in your cells.
We produce it naturally in our bodies, but it decreases with age significantly.
In our Energise 1 Formula, we have included the following dosage:
CoQ10 - 100mg
PQQ is a B Vitamin-like enzyme that helps protect your mitochondria (our energy) from oxidative stress and promotes new mitochondria (more energy).
We have included the following dose of PQQ:
PQQ - 10mg
Vitamin B5, B6, B7, B9 & B12
We have included 7 Vitamin B's which help with energy-production:
Vitamin B1           50mg
Vitamin B2            50mg
Vitamin B5            100mg
Vitamin B6 (P5P)  50mg
Vitamin B7            450ug
Vitamin B9            200ug
Vitamin B12         250ug
Benefits of Vitamin B:
Vitamin B5 - helps convert food into energy and is crucial for making blood cells
Vitamin B6 - helps release energy from food and keep blood glucose levels steady. We have used the bioactive (better-quality) form of Vitamin B6 - P5P
Vitamin B7 (Biotin) - helps with the formation of fatty acids and glucose which are used in our body
Vitamin B9 (Folate - not synthetic Folic Acid) - helps convert carbohydrates into glucose + produces red blood cells
Vitamin B12 - helps with energy production and also helps with converting food to energy
Magnesium is abundant in our bodies and helps with many processes such as helping enzymes convert food into energy and extracting the nutrients from food.
Benefits of Magnesium:
Contributes to the reduction of tiredness and fatigue
Contributes to the maintenance of normal bones and teeth
We have included the following dose of Magnesium:
Magnesium Malate - 75mg
Quality product
I feel a surge of energy upon taking in the morning also seems to help my with elevated mood. Tastes and feels like a quality product I am glad I invested in myself
NMN-XR
I'm 46 year old male and I've been exercising since my late teens mostly with weights, but also cardio vascular, including circuit training. With each passing year I have noticed a reduction in energy, motivation and strength. NMN-XR has helped bring back the intensity that I missed over the past 4 to 5 years. I'm also seeing an improvement in strength and endurance. I've also noticed a significant improvement in my complexion and don't seem to look as tired. Cheers!
Youth and vitality
The most meaningful gift I gave myself for my upcoming 50th anniversary is a subscription to MNM and resveratrol. I get compliments on the vision and the youthful skin of the face. No one knows my real age. Full of energy and life without pain in joints and muscles.
5️⃣ STARS ⭐️
Thank you so much for all the gifts you send me on my subscription .I feel so good my skin is plump, my hair is beautiful and shiny. I don't have hot flashes from menopause and I feel great!!! Thank you
Get up & go!
Took a while to notice but not taking NMN definitely lowered my energy- it helped especially when I took it with TMG.