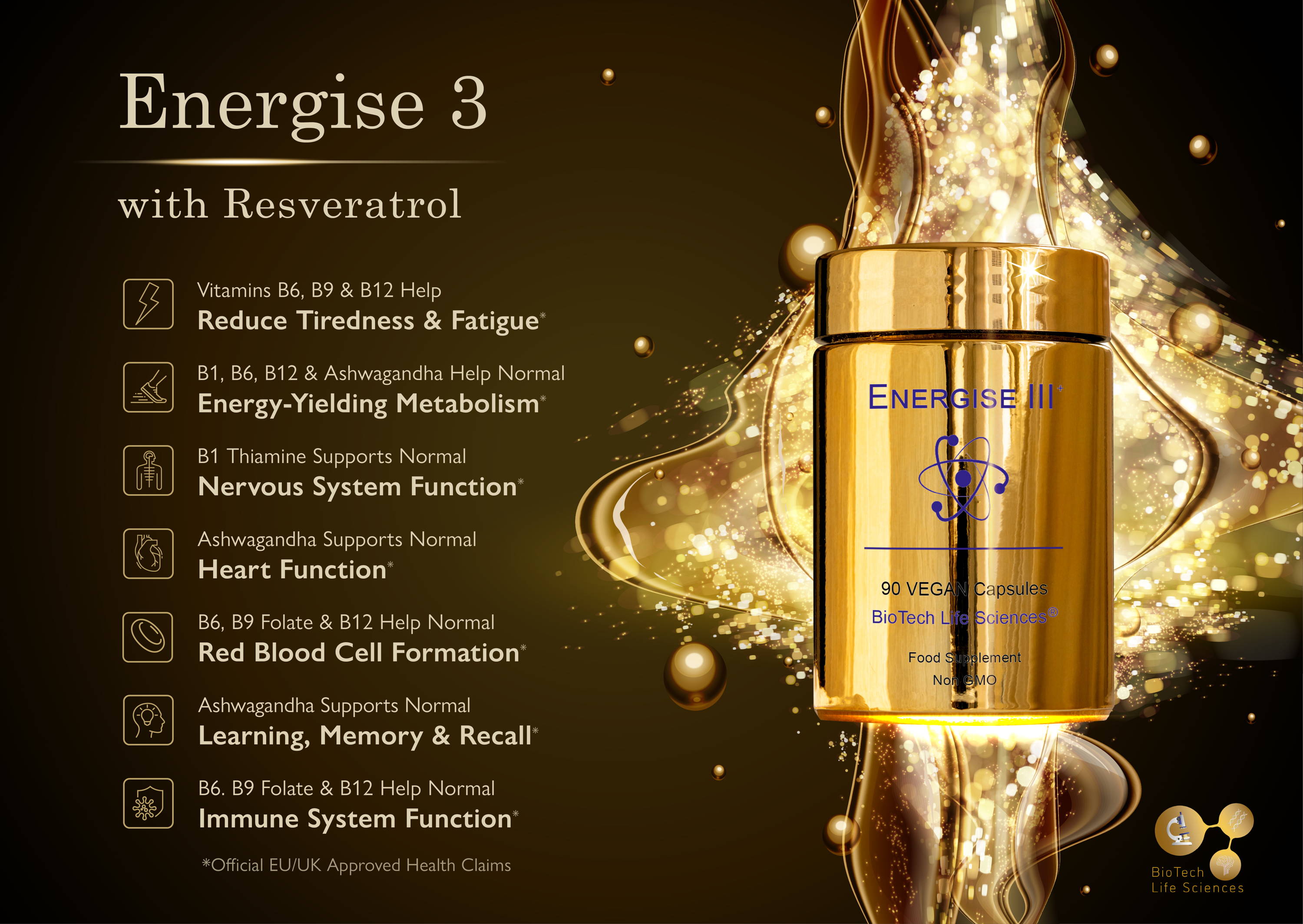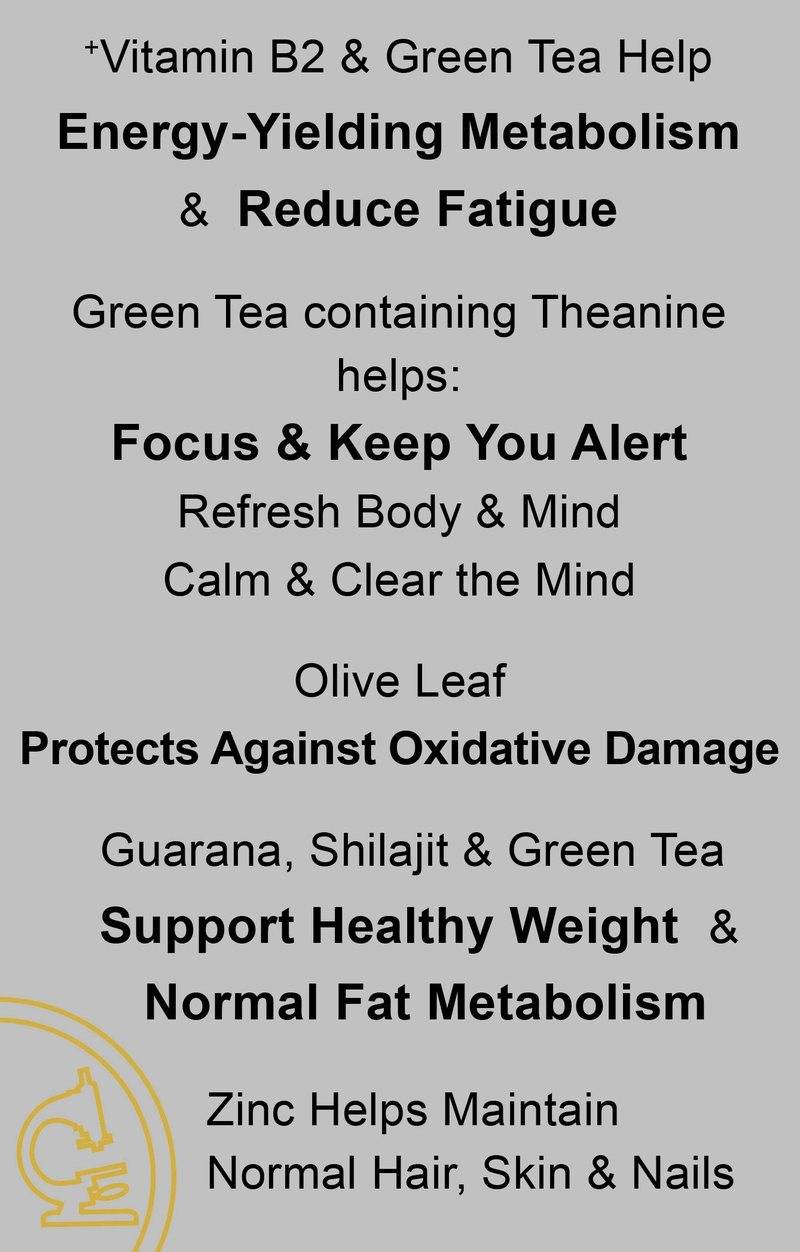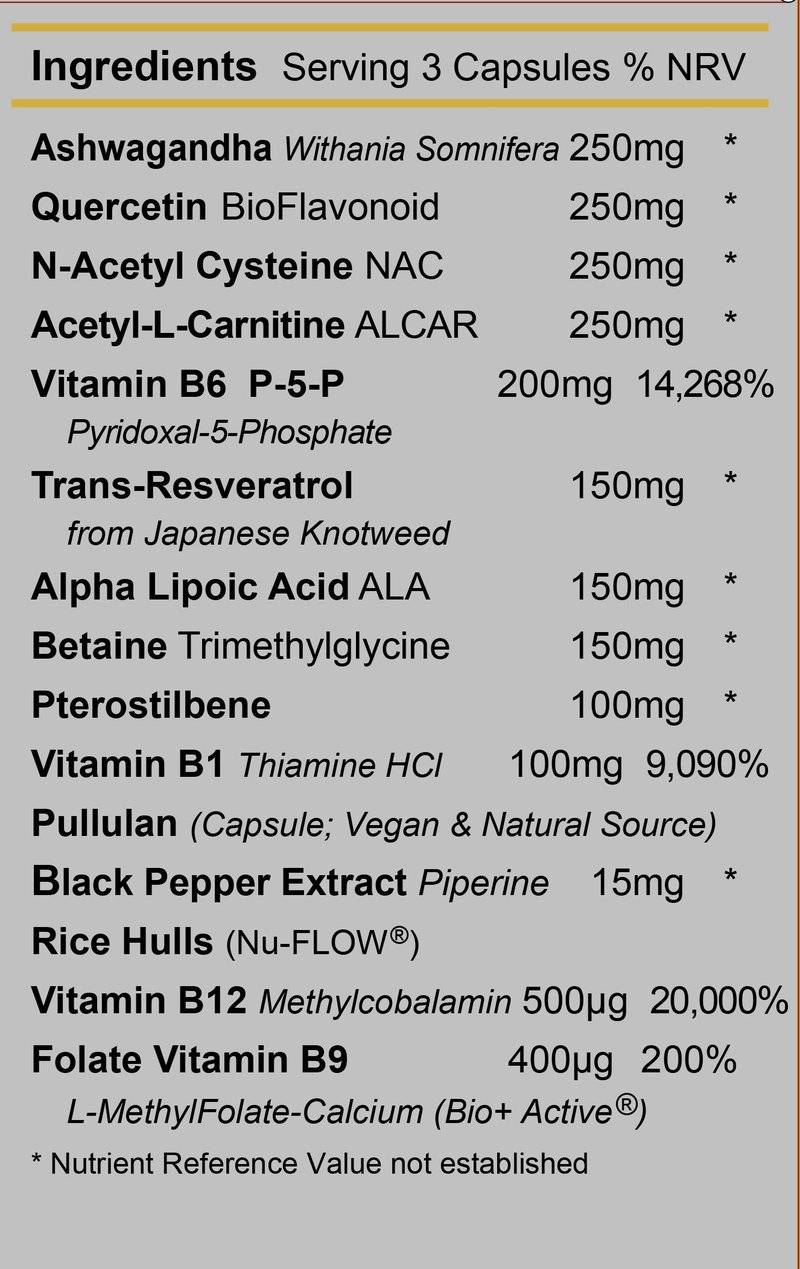 1 Serving Per Day = 3 Capsules
Total Servings = 90 Vegan Capsules (3 month supply)
The ingredients in this formula have been chosen by our in-house researcher for their Longevity properties.
Member of Health Food Manufacture's Association
We are a member of the Health Foods and Manufacturer's Association (HFMA) which is an authoritative voice of the natural health industry.
This product is Vegan and has Zero GMOs.
"I began taking Energise after a friend recommended it to me. I was sceptical and firmly of the belief "if it sounds to good to be true, it is" The shock I had after only a few days (hours really) of taking Energise. I felt invigorated, and energetic. I was able to achieve much more than normal, both physically and mentally. It has added bonuses too. My skin tags, which I have suffered from most of my adult life began to shrink. The two on my face noticeably. I slept better too." - Simon Clark
---
Ashwaghanda - 250mg
Helps support relaxation and contributes to general well being
Quercetin - 250mg
Quercetin is a plant-derived flavonoid and is one of the most bioactive bioflavonoids which has been researched the most in human trials.
NAC - 250mg
N-Acetyl Cysteine (NAC) comes from the amino acid L-cysteine which is made up 3 amino acids: cysteine, glutamic acid and glycine.
ALCAR - 250mg
Acetyl-L-Carnitine is similar to L-Carnitine and is an amino acid which serves as the building block of amino acid.
Benefits of ALCAR:
Naturally present in the body in the brain, liver and kidneys
Able to cross the blood brain barrier unlike L-Carnitine
Helps transport fatty acid into mitochondria
Involved in brain energy metabolism
Vitamin B1, B6, B9 and B12
Vitamin B1 - 100mg
Vitamin B6 (P-5-P) - 200mg
Vitamin B9 - 400ug
Vitamin B12 - 500ug
Benefits of Vitamin B1, B6, B9 and B12:
Folate contributes to normal amino acid synthesis
Folate contributes to normal psychological function
Folate contributes to the reduction of tiredness and fatigue
Thiamine contributes to normal energy-yielding metabolism
Vitamin B6 contributes to normal energy-yielding metabolism
Trans-Resveratrol - 150mg
Trans-Resveratrol - 150mg
Trans-Resveratrol 98% sourced from Japanese Knotweed is naturally occurring in red grapes and red wine.
To early to tell
I don't think NMN & NAD work overnight, realisticly. I'd like several months, before giving an honest review.
Perfect ingredients
I have been using anti aging supplements for almost 20 years , not realy for anti aging skin wise but vital organs . I understand from experience that alot of products are fake and does not reflect what is written on the label but your products are astonishing well prepared and have excellent combination with real well being feeling. Thanks for thinking out of the box in a way that you came up with such products.
Great products and customer service
Have had nothing but great experiences
Energy Booster
It is simply unbelievable how good you feel after just taking two capsules, even after a single dose. My energy level was boosted by this supplement, and I felt the effect right away.
I gave the product to my friends and family members and all of them were amazed at the results and felt the same way as I did.
Also, when I was sick, I increased my dose to two tablets in the morning, and two in the evening, and my condition quickly improved , and I found myself feeling less fatigued as well.