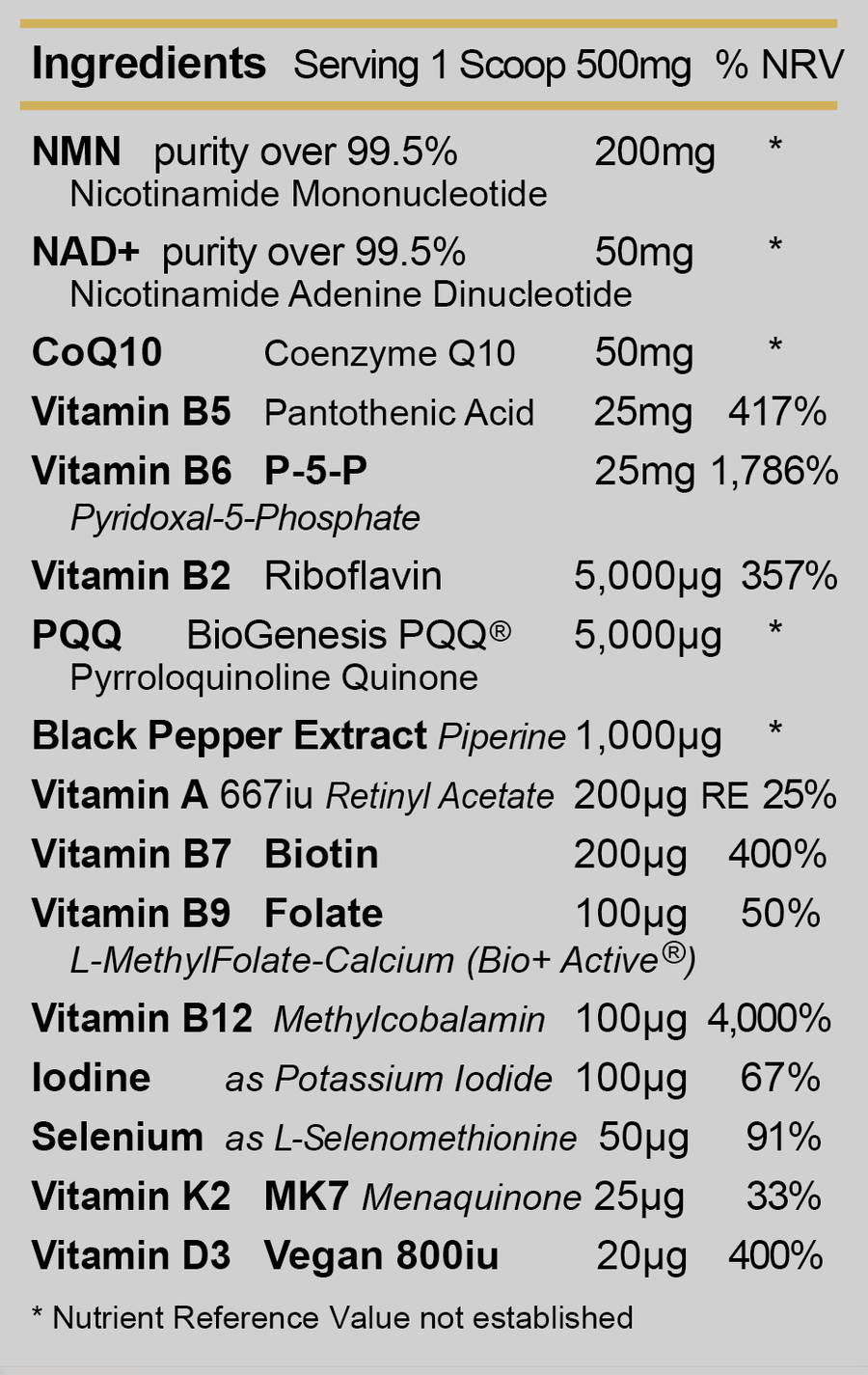 1-2 capsules with breakfast
if required
1-2 capsules with lunch
The ingredients in this formula have been chosen for their roles in energy metabolism.
Energise-X is to be taken sublingually rather than as capsule-form.
Sublingual bypasses the digestive tract and enables to the body to absorb more of the active compound.
Member of Health Food Manufacturer's Association
We are a member of the Health Foods and Manufacturer's Association (HFMA).
This product is Vegan. We do not allow genetically modified ingredients in any of our products.
Made with 99.5% pure NMN
All of the ingredients have been proven in research to help natural energy metabolism and our mitochondria produce energy.
This is the strongest and most potent natural energy product available in the world.
"I began taking Energise after a friend recommended it to me. I was sceptical and firmly of the belief "if it sounds to good to be true, it is" The shock I had after only a few days (hours really) of taking Energise. I felt invigorated, and energetic. I was able to achieve much more than normal, both physically and mentally. It has added bonuses too. My skin tags, which I have suffered from most of my adult life began to shrink. The two on my face noticeably. I slept better too." - Simon Clark
Energise-X has been designed to be the best supplement for energy production.
It is the only supplement to contain 5 key energy-boosting ingredients:
NMN
NAD+
PQQ
CoQ10
Vitamin B12
These 5 core ingredients are essential for energy production and efficient mitochondria.
CoQ10 (also known as Conenzyme Q10) is a compound that generates energy in your cells.
We produce it naturally in our bodies, but it decreases with age significantly.
In our TheraStem Energise Formula, we have included the following dosage:
PQQ is a B Vitamin-like enzyme that helps protect your mitochondria (our energy) from oxidative stress and promotes new mitochondria (more energy).
It also stimulates the growth of new mitochondria even in aging cells.
Helps support mitochondrial biogenesis and function
Helps support cardiovascular health and cellular energy
Helps support cognitive functions
We have included the following dose of PQQ:
We have decided to include more NMN to NAD+ in our TheraStem Energise Formula compared to our TheraStem Body Formula.
In this formula, we have included the following dosages:
NMN increases Physical Energy more than NAD+ and we wanted to create a formula which is NMN dominant.
Vitamin A Retinol - 200ug
Benefits of Vitamin A:
Normal Iron Metabolism
Maintenance of Normal Skin
Maintenance of Normal Vision
Normal Function of the Immune System
Support Normal Immune System Function
Maintenance of Normal Mucous Membranes
Vitamin A has a Role in the Process of Cell Specialisation
Vitamin B5, B6, B7, B9 & B12
We have included 5 B Vitamins which help with energy-production.
Vitamin B2: 5,000ug
Vitamin B5: 25mg
Vitamin B6 P-5-P: 25mg
Vitamin B7: 200ug
Vitamin B9: 100ug
Vitamin B12: 100ug
Benefits of Vitamin B's:
B2, B5, B6, B9 Folate & B12 & Help Reduce Tiredness & Fatigue
B6, B9 Folate & B12 Contribute to Normal Red Blood Cell Formation
B2, B12, B6, B7, Piperine & Iodine Contribute to Normal Nervous System Function
B12, B2 Riboflavin, B5, B6, B7 Biotin & Iodine Contribute to Normal Energy-Yielding Metabolism
Vitamin D3 (Vegan) - 800iu
Vitamin D3 - 800iu
Benefits of Vitamin D3:
Has a role in the process of cell division
Contributes to the maintenance of normal teeth
Contributes to the normal function of the immune system
Contributes to the maintenance of normal muscle function
Helps to reduce the risk of falling associated with postural instability and muscle weakness. Falling is a risk factor for bone fractures among men and women 60 years of age and older
Vitamin K2 (MK7) - 25ug
Vitamin K is needed for the body to form Prothrombin which is required for normal blood clotting.
Benefits of K2:
Contributes to normal blood clotting
Supports the maintenance of bones
Benefits of Iodine
Iodine contributes to normal cognitive function
Iodine contributes to the maintenance of normal skin
Iodine contributes to normal energy-yielding metabolism
Iodine contributes to normal functioning of the nervous system
Iodine contributes to the normal production of thyroid hormones and normal thyroid function
Benefits of Selenium:
Selenium contributes to the normal thyroid function
Selenium contributes to the maintenance of normal hair
Selenium contributes to the maintenance of normal nails
Selenium contributes to the normal function of the immune system
Selenium contributes to the protection of cells from oxidative stress
Get up & go!
Took a while to notice but not taking NMN definitely lowered my energy- it helped especially when I took it with TMG.
Best anti ageing skincare ever !
Cannot believe how fast this has worked on turning my skin around lines around eyes completely gone skin tightening under my neck and face . I look 30 not 61 i'm so happy no more invasive injectables just tight ageless skin. Thank you BTL bye bye lines and wrinkles
Brilliant boosting supplements
Two weeks in and I'm already feeling a difference to my energy and mood.
Proper morning livener.
Quality product and ingredients, clean lift and focus for the morning. Very good amongst the myriad of products that claim to be the same.
Finally an effective energy pill!
This little capsule has the power to conquer fatigue and boost your energy levels like a champ! After just one dose, I felt a noticeable difference. It's incredible how it helps me power through my busy days and even work those late-night hours without feeling drained.
I highly recommend giving Energise-X a shot if you're in need of an energy boost that won't let you down. It's a total lifesaver for those days when you need to kick it into high drive!