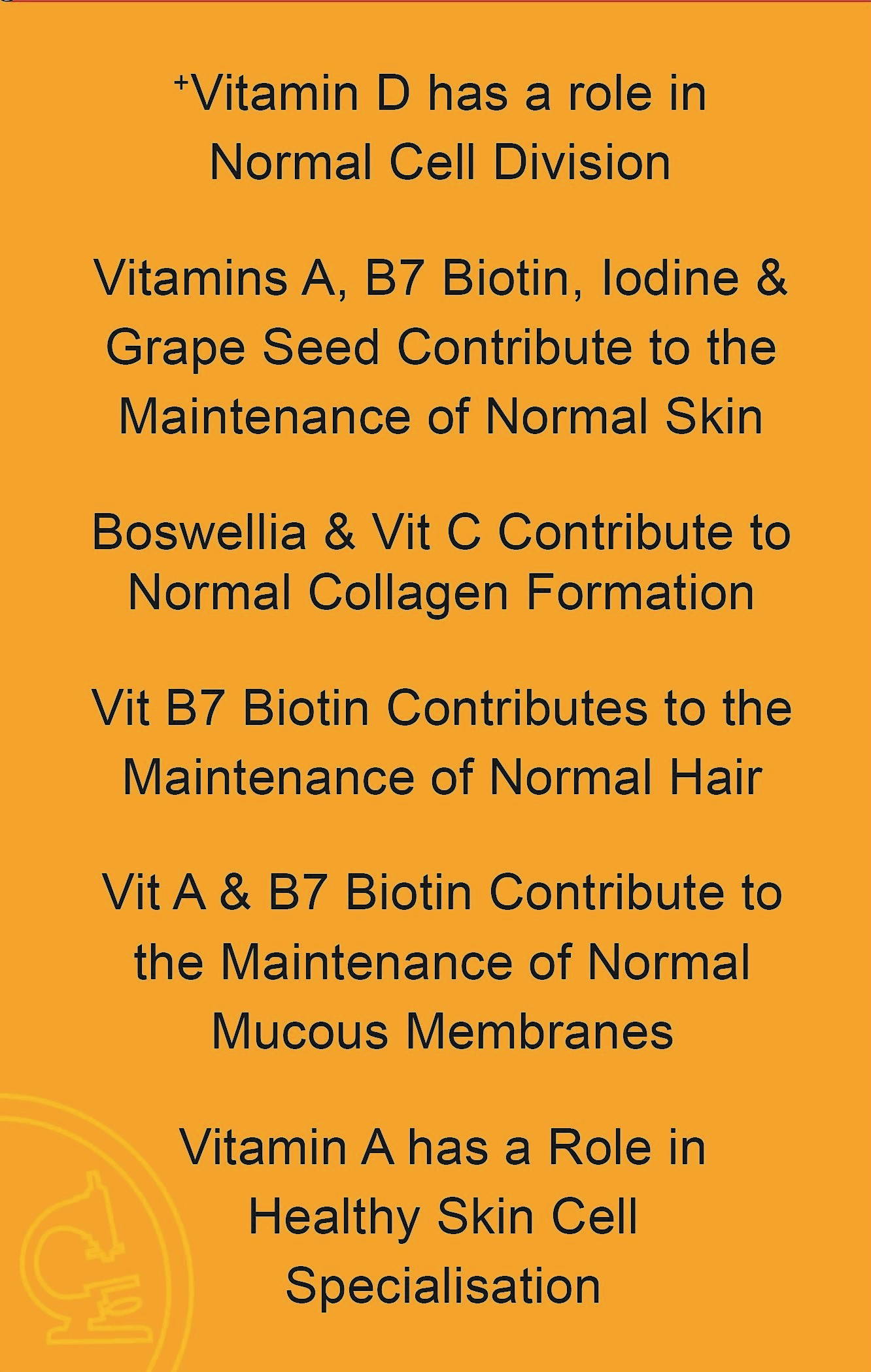 1 Serving Per Day = 3 Capsules
Total Servings = 30
90 Vegan Capsules
People looking to improve their skin from within.
The ingredients in this formula have been chosen by our in-house researcher for their skin supporting properties.
We are a member of the Health Foods and Manufacturer's Association (HFMA) which is an authoritative voice of the natural health industry which requires us to undergo extensive approval from a 3rd party regulator.
This product is Vegan and has Zero GMOs.
Polypodium Leucotomos - 300mg
Polypodium Leucotomos - 300mg
Polypodium leucotomos is a type of fern found in the American tropics and sub-tropics. It has a long history of use in Hondura, particularly for the relief and protection of the skin.
Vitamin C Liposomal - 200mg
Vitamin C Liposomal (Ascorbic Acid) - 200mg
Benefits of Vitamin C
Vitamin C increases iron absorption
Contributes to the reduction of tiredness and fatigue
Contributes to the protection of cells from oxidative stress
Nasturtium Majus Extract - 250mg
Nasturtium Majus Extract - 250mg
Hesperidin - 250mg
Hesperidin, a flavonoid derived from citrus fruits that many experts believe has synergistic activity with vitamin C.
The antioxidant activity of this Hesperidin helps neutralize free radicals in your body, supports healthy blood vessels, circulatory health, and vascular integrity. It also has been shown to support your vein and capillary strength.
Boswellia Serrata - 200mg
Boswellia Serrata Extract = 200mg
Boswellic Acids = 130mg
Also known as Indian Frankincense, providing 130mg of Boswellic Acids.
Legislation prohibits us from talking about herbs and their applications, however, there is a wealth of information available online about the uses of these over many years.
Also known as Biotin, Vitamin B7 is an essential vitamin that helps maintain healthy hair, skin, nails and mucus membranes.
You can find it naturally in fish, nuts, dairy, leafy green, mushrooms and pulses, but as it is water-soluble, the body doesn't store it.

Benefits of Biotin:
Supports the maintenance of normal skin & hair and mucus membranes
Contributes to normal macro-nutrient metabolism
Contributes to normal psychological function
Vitamin A - 800ug
Vitamin A, also known as retinol, is a fat-soluble vitamin that has several important functions in maintaining overall health and wellbeing.
Benefits of Vitamin A:
Vitamin A contributes to normal iron metabolism
Vitamin A has a role in the process of cell specialisation
Vitamin A contributes to the normal function of the immune system
Iodine as Potassium Iodide - 200ug
Benefits of Iodine
Contributes to normal functioning of the nervous system
Contributes to normal energy-yielding metabolism
Contributes to normal cognitive function
Vitamin K2 - 100ug
Plays a central role in the metabolism of calcium — the main mineral found in your bones and teeth.

It also contributes to normal blood clotting & the maintenance of normal bones.
Vitamin D3 - 1,000iu
Known as the "Sunshine Vitamin", Vitamin D is crucial for our survival and we have included a Vegan Vitamin D3 Cholecalciferol.
Benefits of Vitamin D3
Vitamin D contributes to the maintenance of normal muscle function
Vitamin D contributes to the maintenance of normal bones & the normal function of the immune system
Ready to give up HRT for this product!
Such a great supplement which is helping with my sleep and less overwhelming feelings.
Great supplement
It has been a total game-changer for me! Feeling good and calm has never been easier. It helps me relax and supports better sleep, leaving me refreshed and energized. Plus, the added benefits for heart health and fat metabolism are a huge bonus. I highly recommend this supplement for anyone seeking a natural way to reduce stress and embrace a more balanced lifestyle. It's simply pure bliss in a bottle!
Cardio inmune
I'm amazed with the results of the product. Since I made biotech products part of my life I feel so much better, I highly recommend it, I love the fact that everything it's completely natural, my body can tell!
At a certain age, I needed to research rejuvenation and longevity and came to read Prof Sinclair from Harvard. Examination of products led me to Biotech.
For two years, I have taken MNM and regularly other boosters. I have found what I need and am very happy with Biotech's products and services it. A pleasure to write it. J.G. Belgium
An Excellent Supplement
This is a great supplement, noticed a positive difference in my energy within a couple of days. I really appreciate the high quality ingredients and its an easy size pill to take. Will definitely use this brand again, I highly recommend them.