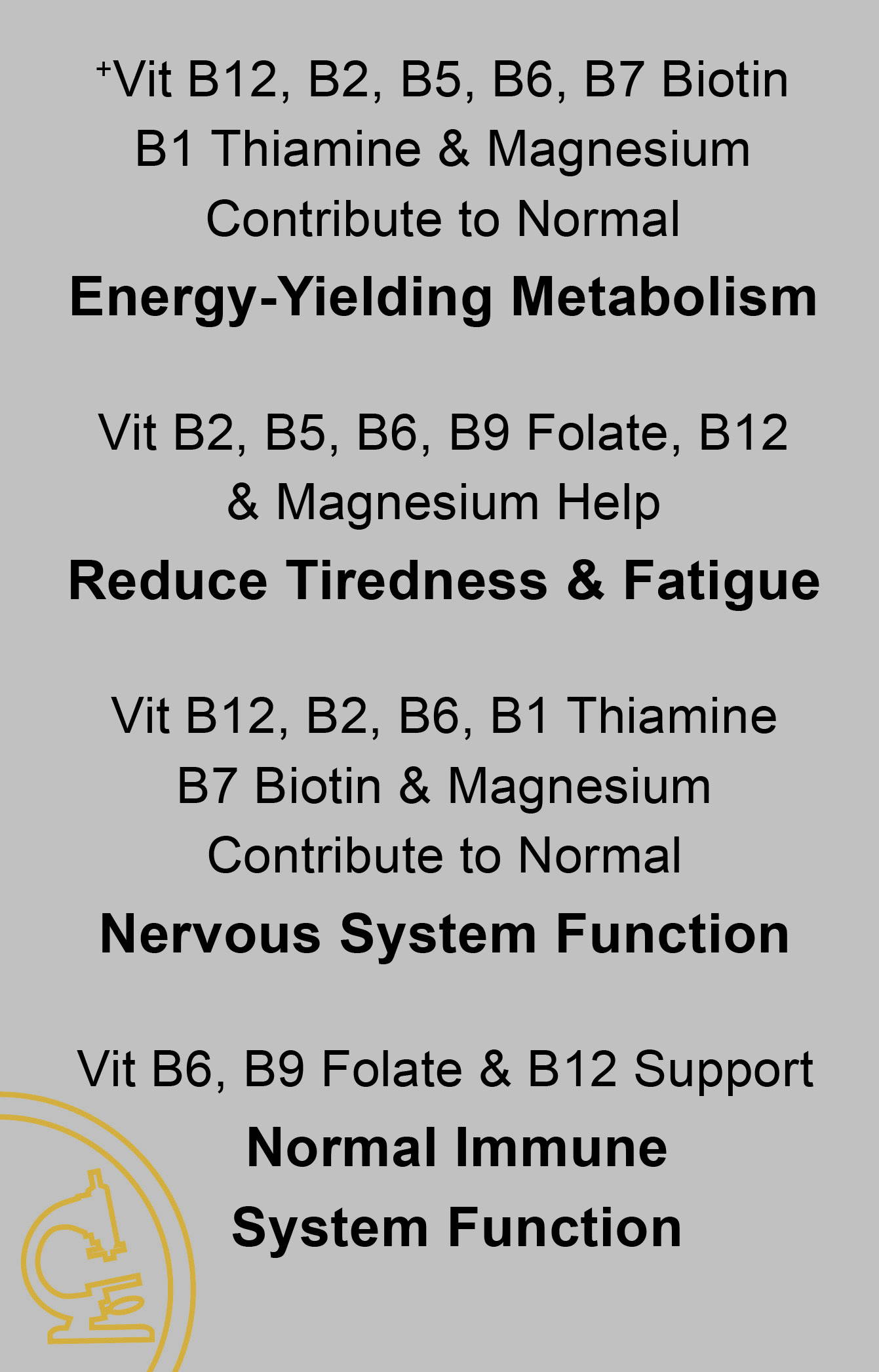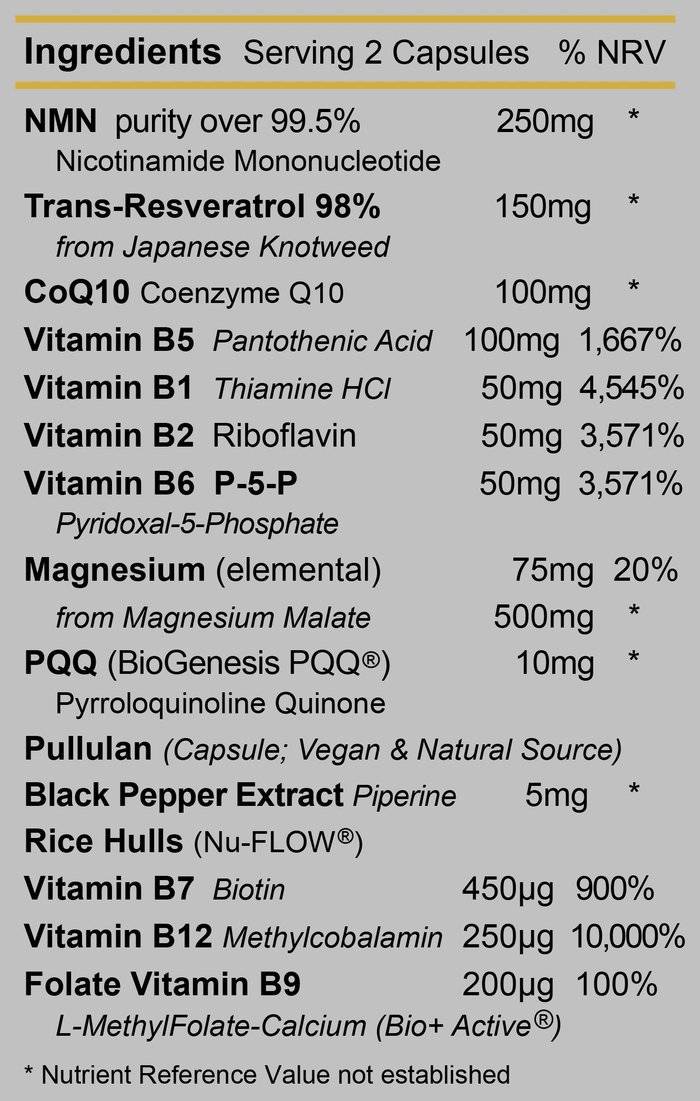 1 Serving = 2 Capsules
Servings = 22 / 45
Total Amount = 45 / 90 Vegan Capsules
Member of Health Food Manufacturer's Association
We are a member of the Health Foods and Manufacturer's Association (HFMA) which is an authoritative voice of the natural health industry.
Vegan, Non-GMO, Gluten Free & Dairy Free
This product is Vegan, Non-GMO and Free From:
Gluten
Dairy
Soy
Egg
Wheat
Colours
Preservatives
Artificial Fillers
We have received certification from a 3rd party lab (image above in 1st tab) that states our NMN having a 99.78% purity.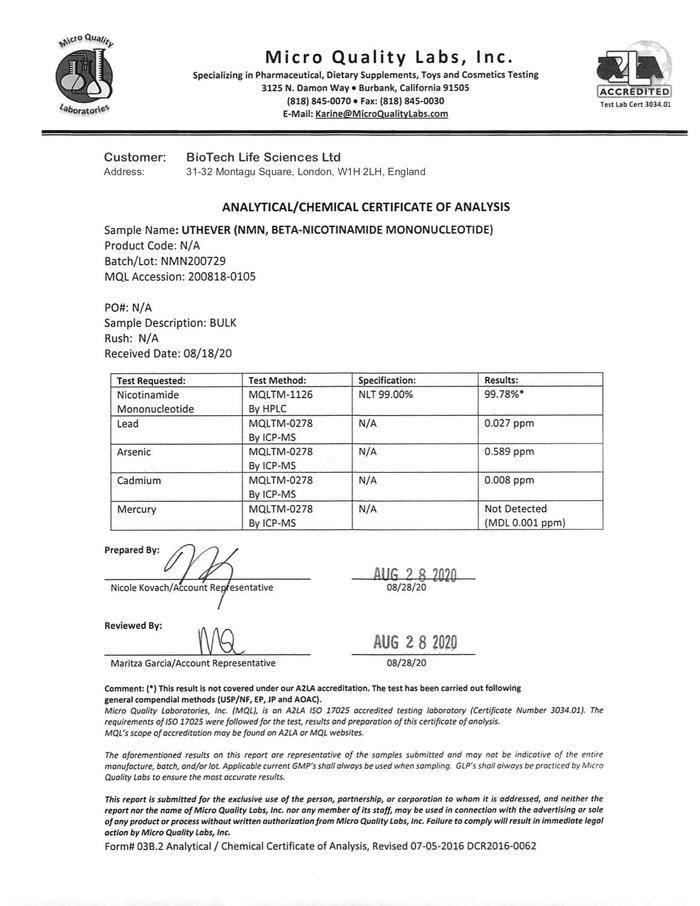 "I'm first and foremost a type 1 diabetic and constantly worried about what's going on inside of me that I can't see. Energise-x has changed my daily habits so much so that everyone is noticing in a good way. My energy levels are consistent. My brain is more cognizant. My appetite is never out of control. My skin and a body look significantly better, too, in that I'm more toned and youthful. Hope this helps" - Kelly Hanahan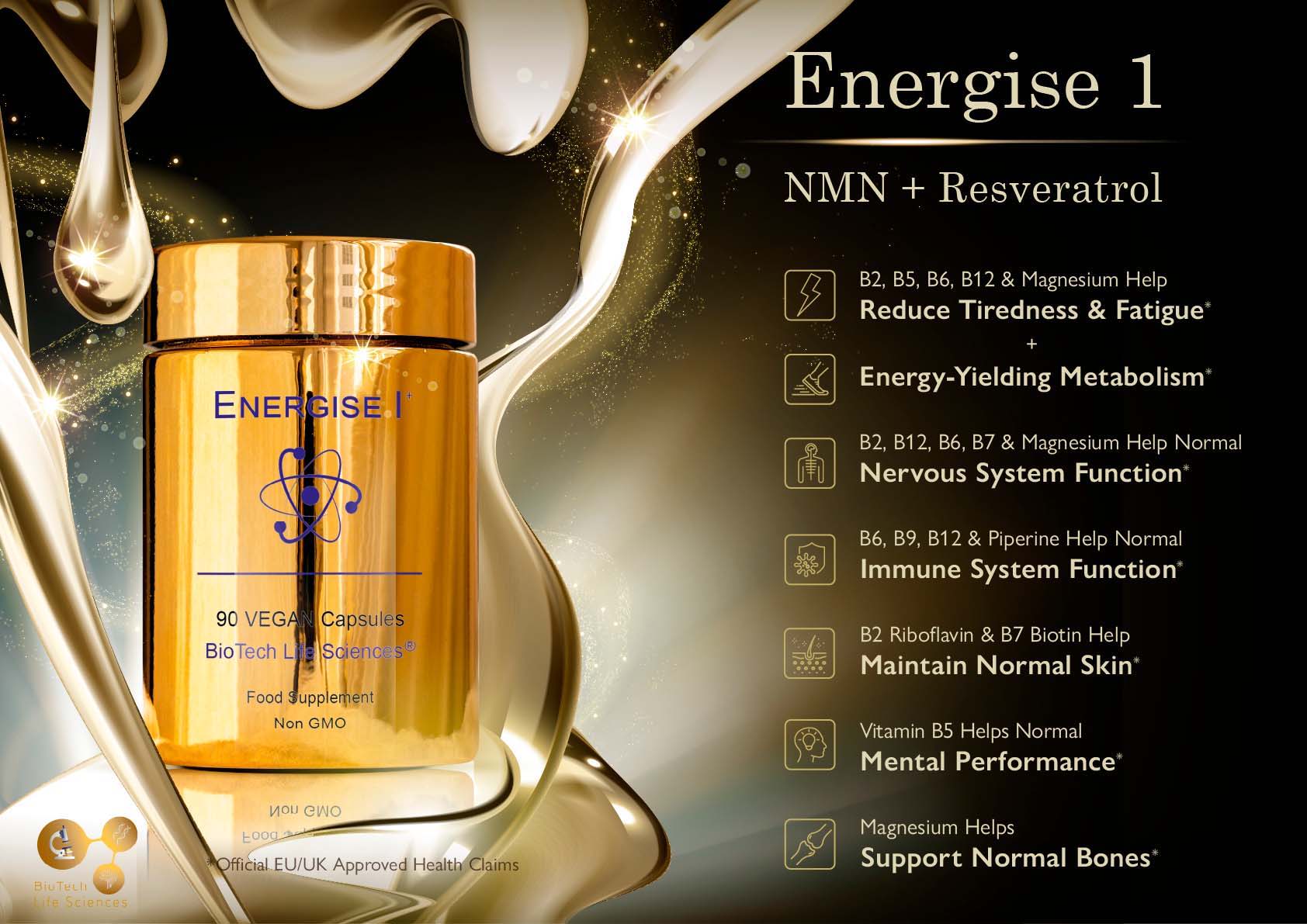 ---
---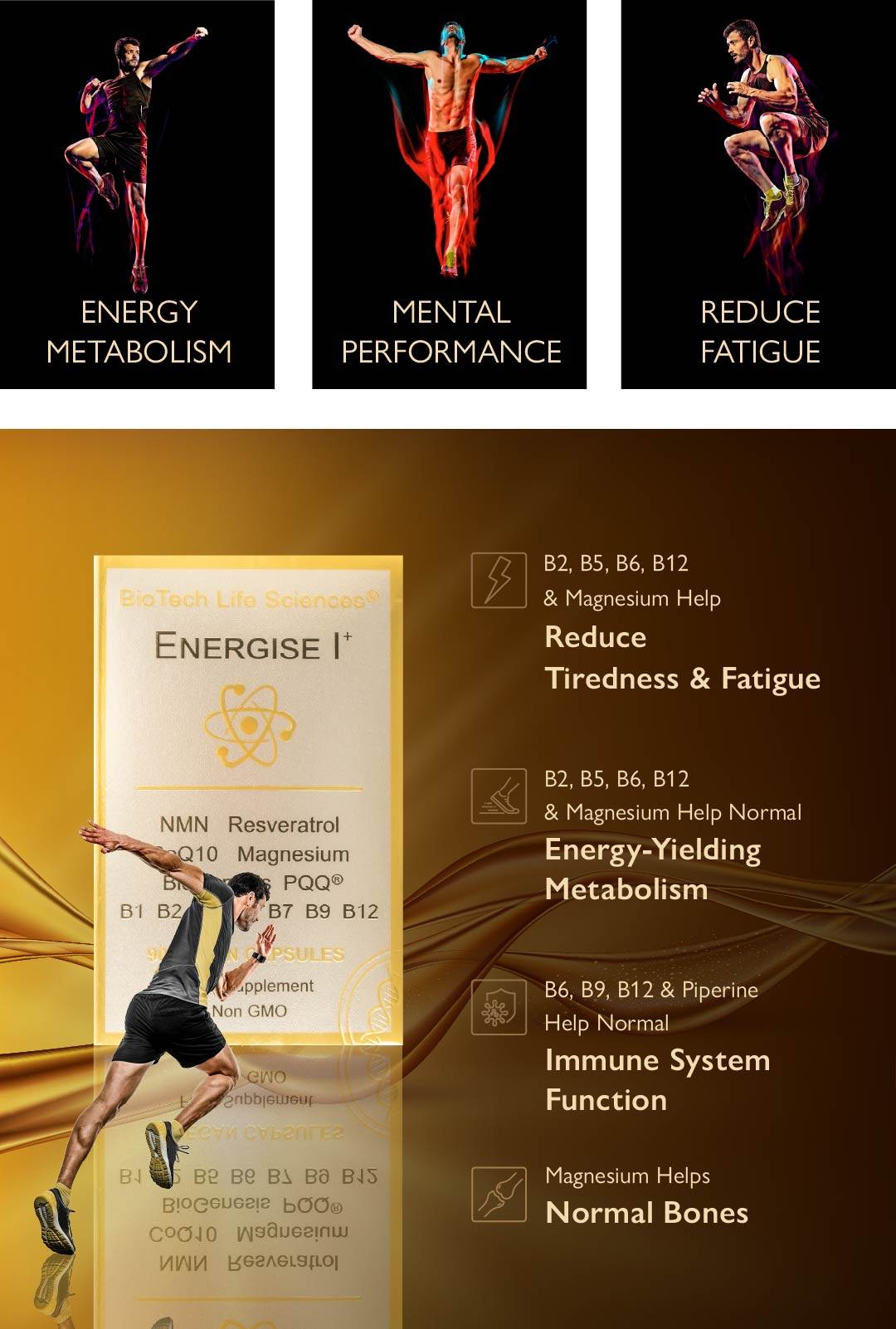 ---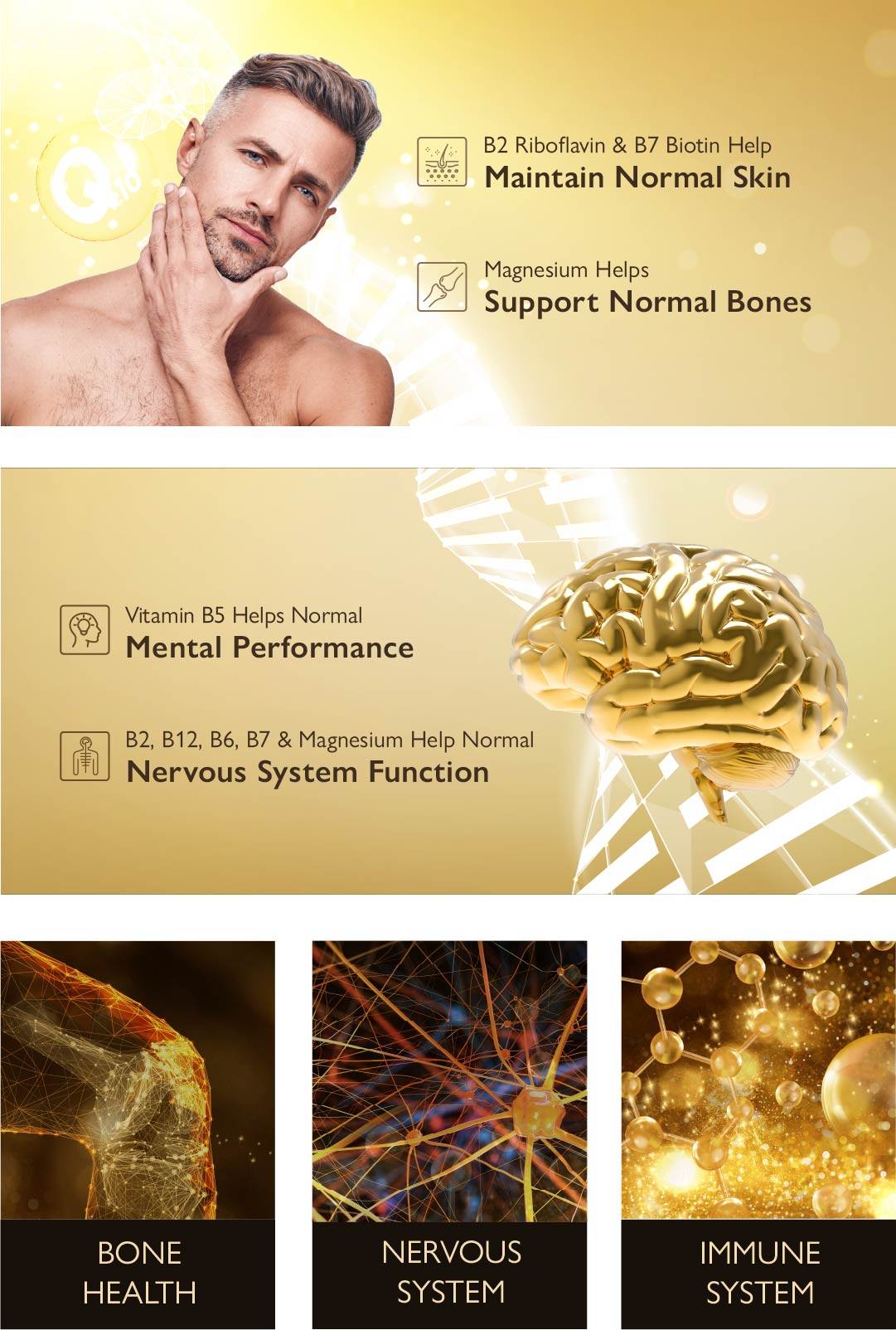 ---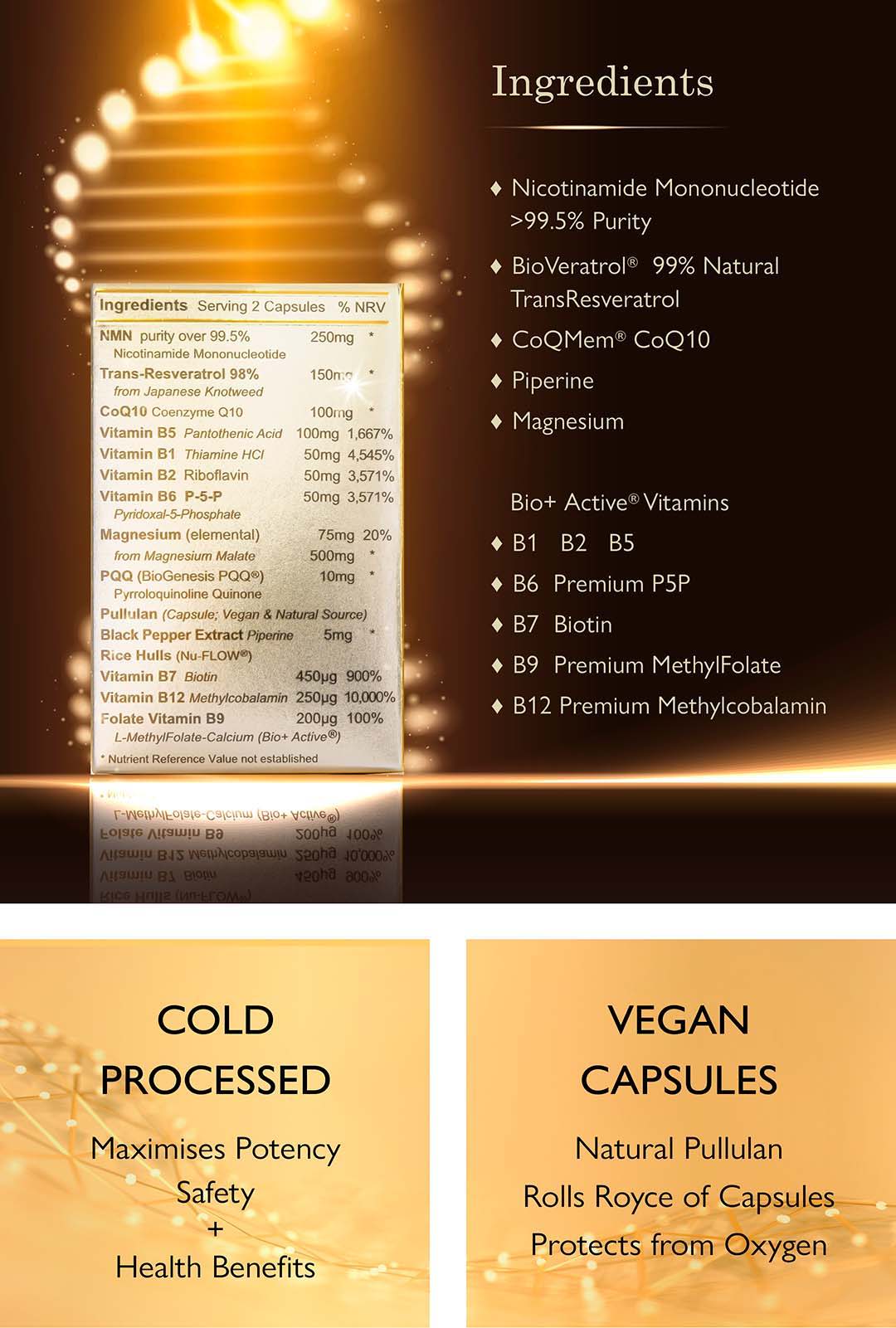 ---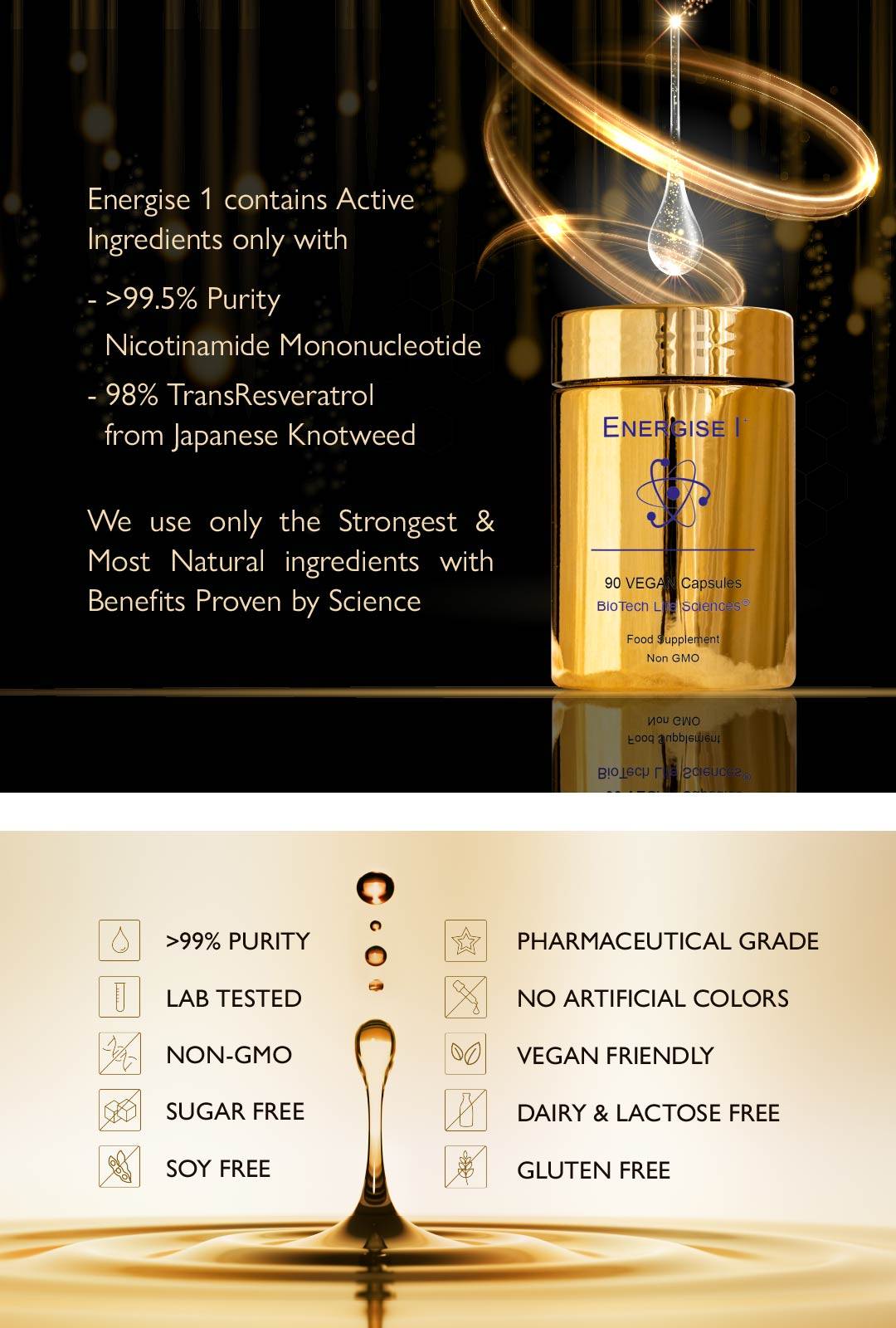 ---
Trans-Resveratrol 98% - 250mg
Trans-Resveratrol 98% sourced from Japanese Knotweed is naturally occurring in red grapes and red wine and we've included the following dose:
Resveratrol - 250mg
In this formula, we have included the following dosages:
NMN - 250mg
CoQ10 (also known as Co-Enzyme Q10) is a compound that generates energy in your cells.
We produce it naturally in our bodies, but it decreases with age significantly.
In our Energise 1 Formula, we have included the following dosage:
CoQ10 - 100mg
PQQ is a B Vitamin-like enzyme that helps protect your mitochondria (our energy) from oxidative stress and promotes new mitochondria (more energy).
We have included the following dose of PQQ:
PQQ - 10mg
Vitamin B5, B6, B7, B9 & B12
We have included 7 Vitamin B's which help with energy-production:
Vitamin B1           50mg
Vitamin B2            50mg
Vitamin B5            100mg
Vitamin B6 (P5P)  50mg
Vitamin B7            450ug
Vitamin B9            200ug
Vitamin B12         250ug
Benefits of Vitamin B:
Vitamin B5 - helps convert food into energy and is crucial for making blood cells
Vitamin B6 - helps release energy from food and keep blood glucose levels steady. We have used the bioactive (better-quality) form of Vitamin B6 - P5P
Vitamin B7 (Biotin) - helps with the formation of fatty acids and glucose which are used in our body
Vitamin B9 (Folate - not synthetic Folic Acid) - helps convert carbohydrates into glucose + produces red blood cells
Vitamin B12 - helps with energy production and also helps with converting food to energy
Magnesium is abundant in our bodies and helps with many processes such as helping enzymes convert food into energy and extracting the nutrients from food.
Benefits of Magnesium:
Contributes to the reduction of tiredness and fatigue
Contributes to the maintenance of normal bones and teeth
We have included the following dose of Magnesium:
Magnesium Malate - 75mg
What a great product.
I have never really worn a a face cream before, so was a bit sceptical. However, now I've seen the results from the Intense Face & Skin Rejuvenation cream. I intend to continue to use the product.
Bouncing back
Had another cold, waited till it had passed before giving this a run. Two caps, 3 mile run - energy still flowing after as well as metabolism buzzing with heat. Managed 30% more productivity & no early crash. Felt great the next day too. Pretty damn impressive?
High Quality/Purity and Effective
I placed my initial order of NAD+ powder several months ago. I simply wanted a small boost between my NAD+ IV infusions. I have been taking intravenous infusions for nearly 2 years. Though the infusions are highly effective, they are also very costly and time consuming. My hope was that the BioTech Life Sciences product, NAD+ in powder form, could supplement the infusions or that I could decrease them a bit. Never, Ever, did I imagine the effectiveness so great that I could replace the infusions all together! Sure the company mentioned this on their site but those of us in the medical field know that when speaking of delivery and absorption, there is no rival for straight delivery through the vein. That is, until I tried this companies product. I cant say enough about these sublingual powders, its fast absorption, and effectiveness. I am so very happy to have found them. I am now experimenting with their other products and documenting my progress. Their customer service is impeccable. Highly educated on their products, they can answer any questions you might have. And lastly, I want to add that I have not been paid or profited in any way for this review. I take the health of others and myself too seriously to allow monetary bias to form my opinions.
Exceptional product
I have found a product that lives up to my expectations which is super excellent with increased energy my mood is good, immune system is superb and have never been feeling better than I do now having tried lots of different products in the past nothing compares to this company for quality and service
Would recommend to my family and friends
NMN-XR
Totalement satisfaite par ces produits ,bien que n'étant pas scientifique , je sais pour avoir lu de nombreuses revues , à quel points les niveaux de Nadh+ ou NMN sont importants pour le bon fonctionnement de l'organisme dans son ensemble. Je dois ajouter que votre marque est plus que fiable .Tous les produits testés s'avèrent excellents.