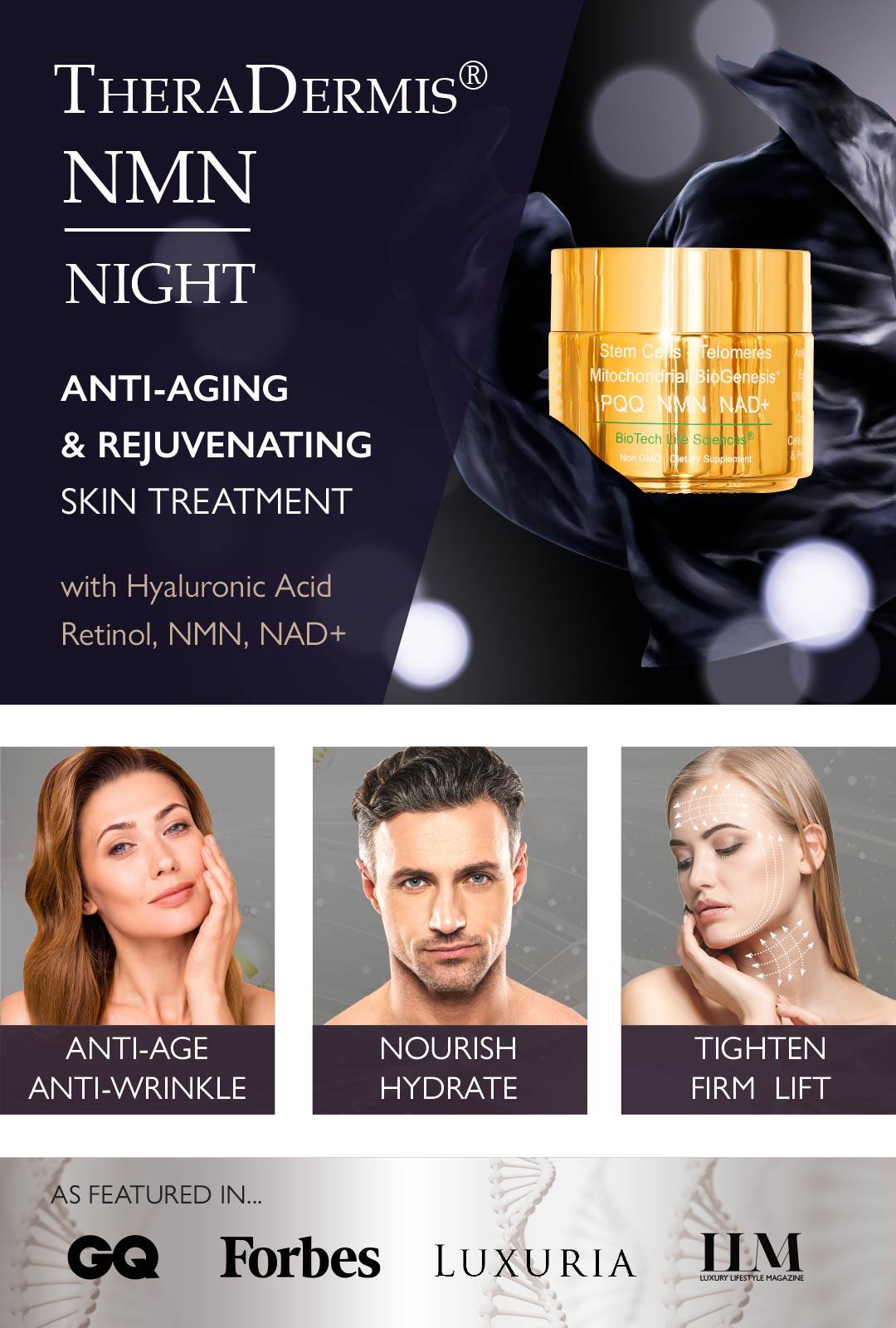 5* Customer Testimonial's
---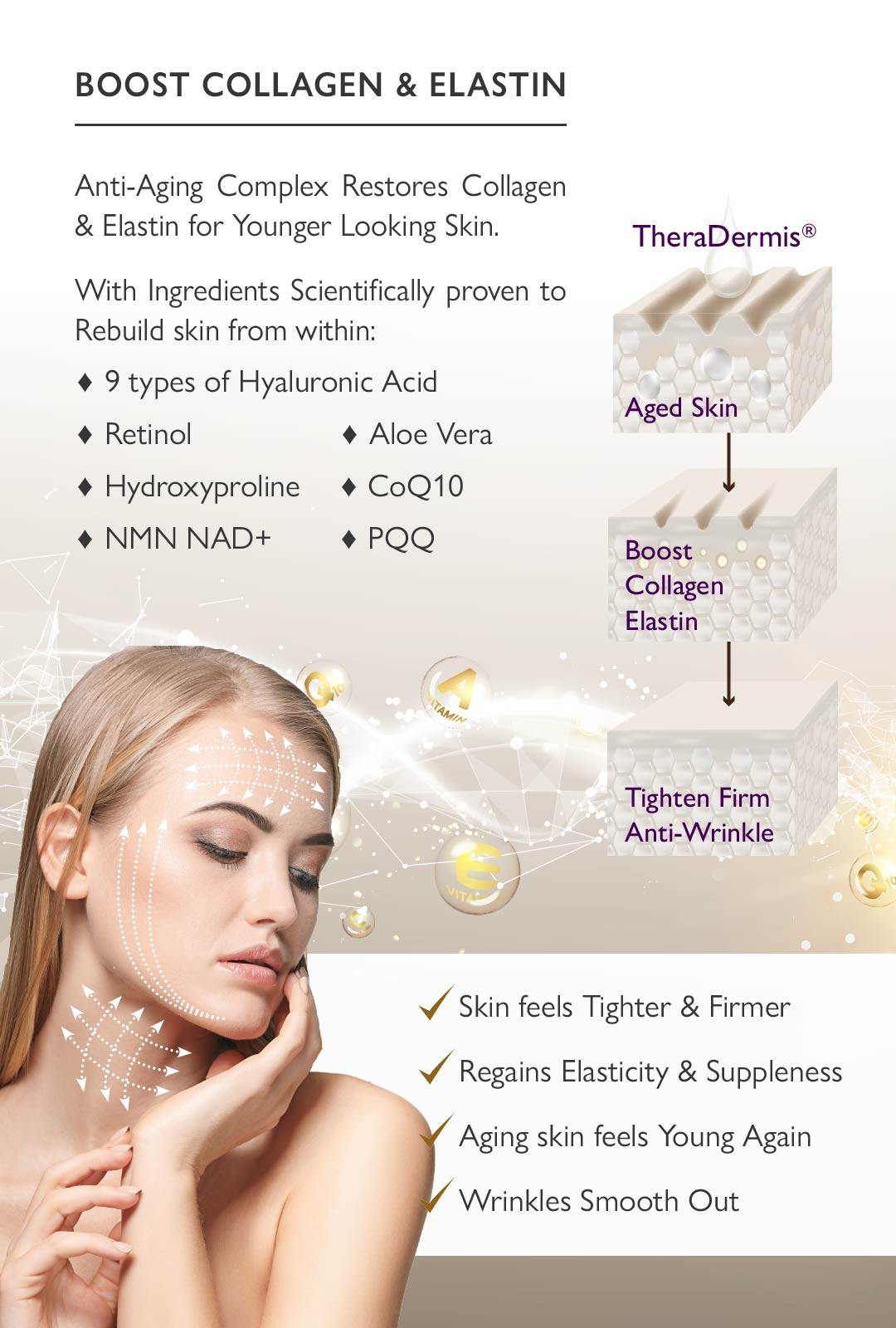 ---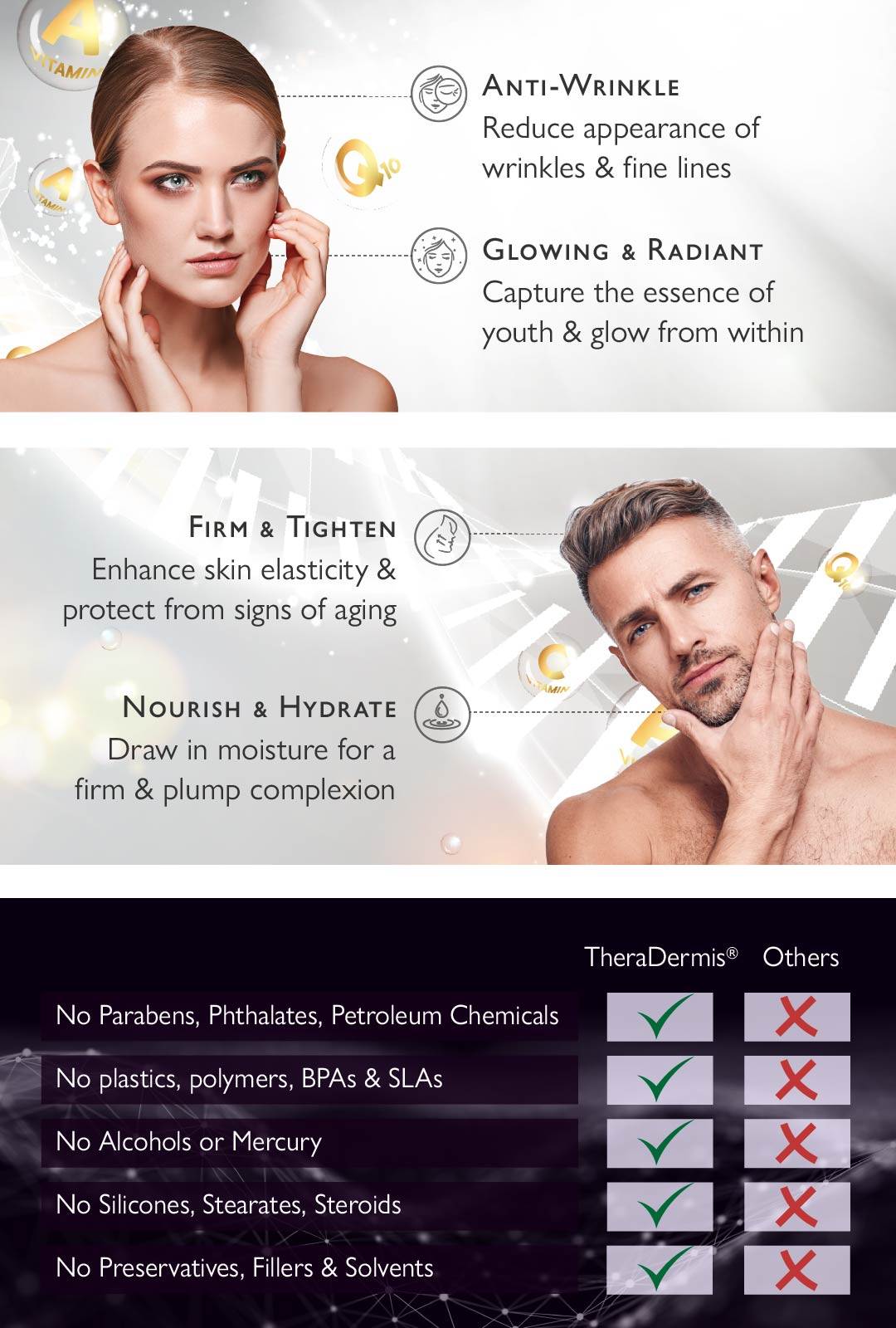 ---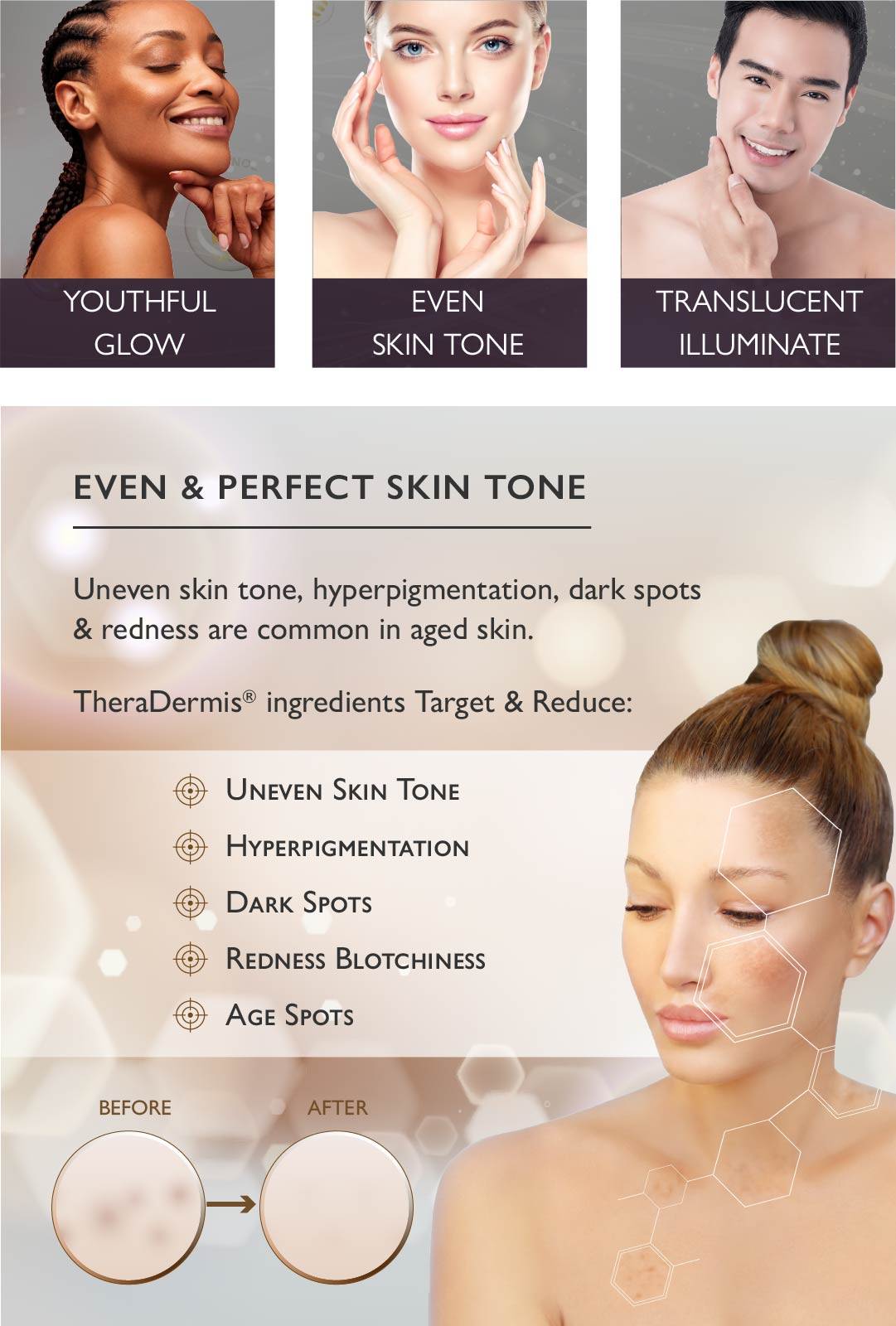 ---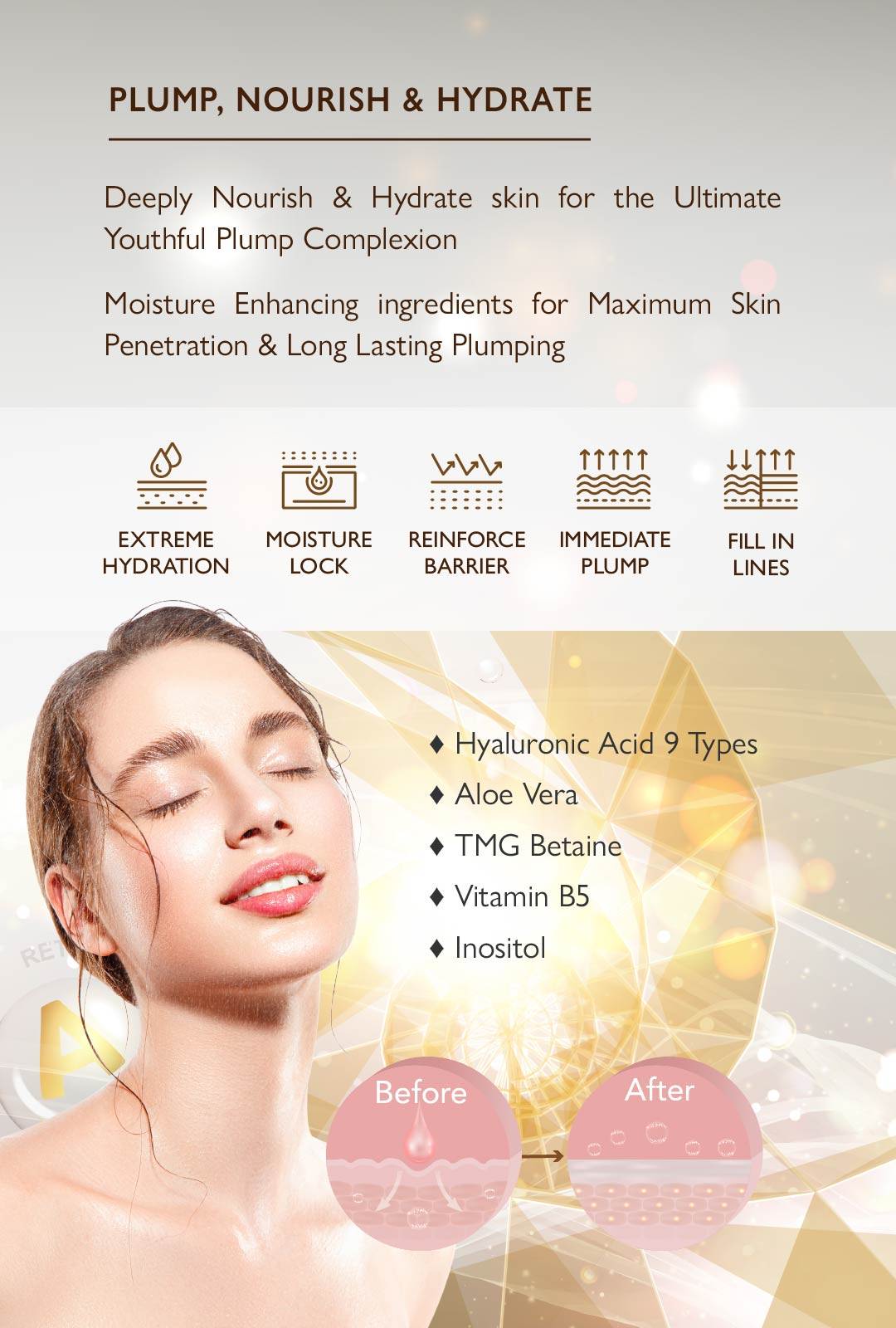 ---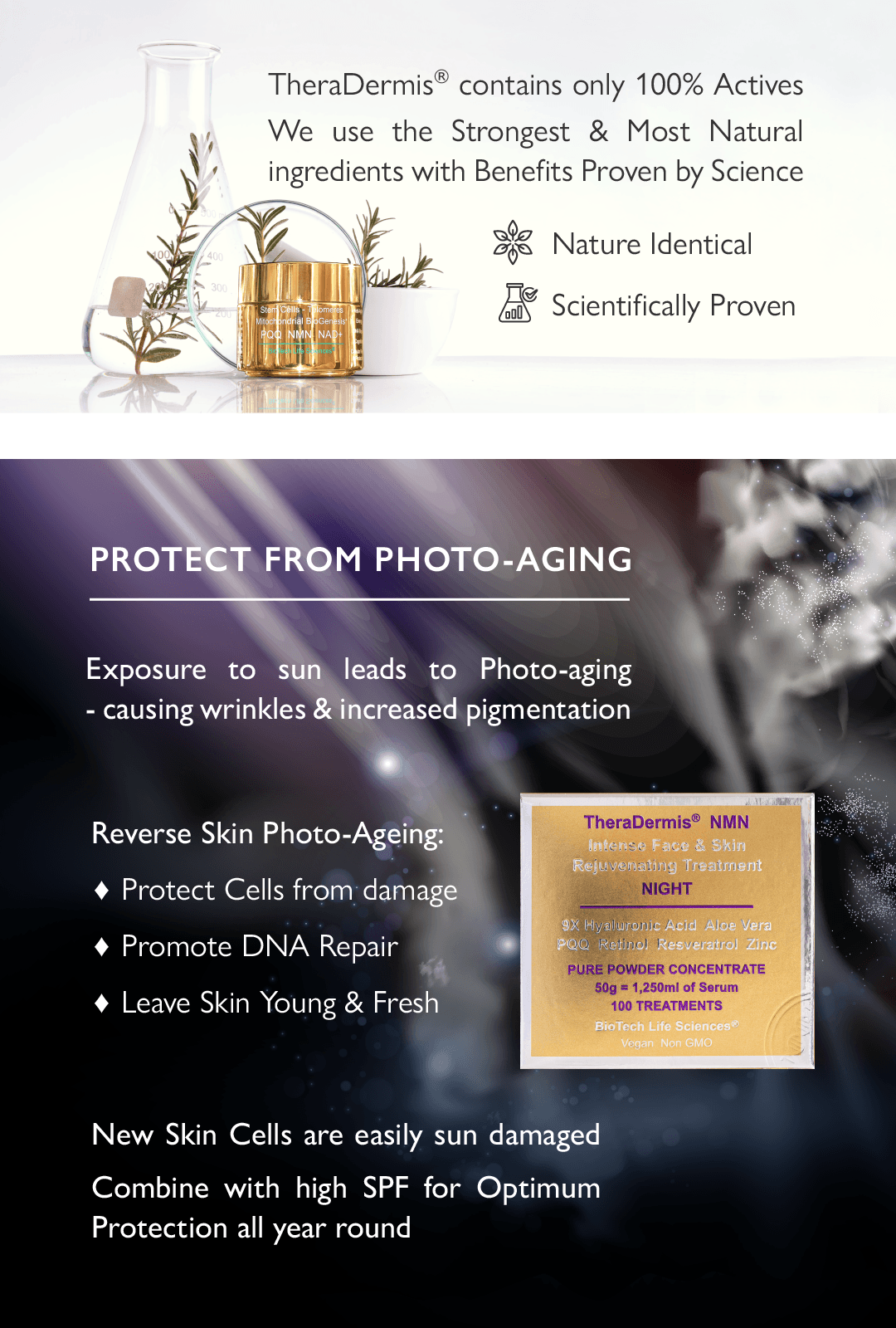 ---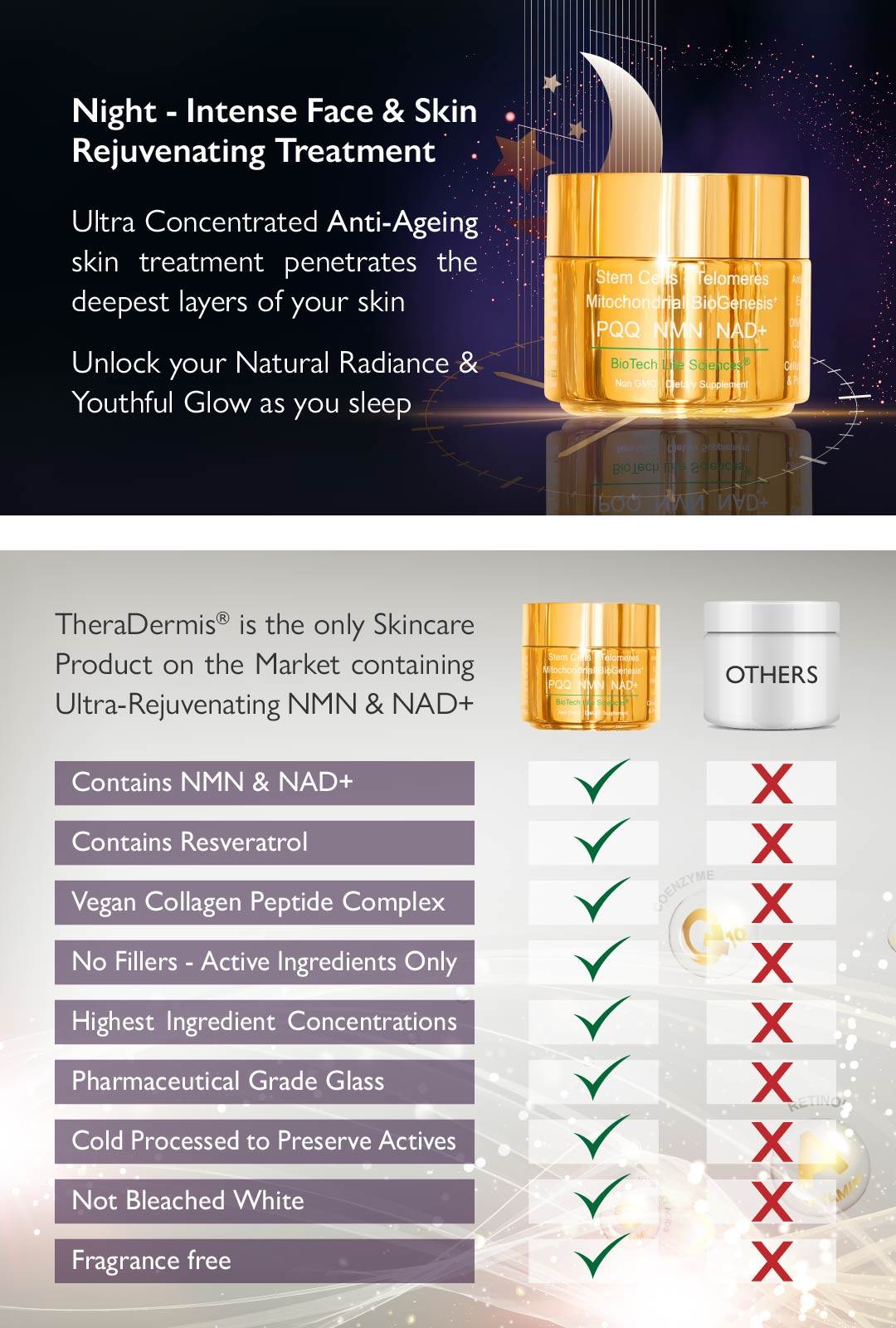 ---
I have started with the Night first for 30 days then will add the day. My skin looks amazing! I think it does help that I also use some of their other products for "beauty from the inside out" like NMN and NAD. The only think better than the quality of this company's products is the excellent customer service!
Natalie R.L.
6th May 2021
My complexion is even, glowing & so SMOOTH. The fine lines around my eyes seemed to fill in or "plump" up. I look younger- no joke my skin has actually renewed itself. And, my pores are smaller. I have to search in a magnifying mirror for blemishes - so I touch & prod my face much less. I feel like I lost a few years...more than a few!
Lexi B
22nd April 2021
The products aim is to increase the skin cell turnover.
I have used it for a few weeks so far and my skin has started to look more radiant and plump and my lines are less visible.
Ricarda
18th April 2021
9 Types of Hyaluronic Acid

Hyaluronic Acid is naturally produced by the body and can attract up to 1,000x time its weight in water.
It helps draw moisture out of the skin making the surface feel soft and hydrated temporarily and its main function is to retain water to keep tissues well lubricated.
Resveratrol is a plant compound that has anti-oxidant properties which plants release when they're under attack by pathogens such as bacteria or fungi.
It can increase the production of naturally occurring antioxidants in the skin cells to help protect the skin's surface.
Natural sources of Resveratrol include skin of grapes, blueberries and raspberries.
Green Tea's anti-inflammatory properties may help reduce skin irritation, redness and contribute to younger looking skin.
It is full with Vitamin B2 and also Vitamin E which are both essential for skin maintenance.
NMN (Nicotinamide Mononucleotide) is a new anti-aging supplement that helps maintain the levels of NAD+ in the body.
NAD+ reduces significantly as you age (can drop by as much as 50% in your 40s) and is one of the reasons why people experience the negative effects of aging.
We naturally produce NAD+ in small amounts when we do all the good things for our health such as exercise, fasting & eating our green vegetables.
NMN has come to popularity through Harvard Research, Dr. David Sinclair, who published his book revolutionary book: "Why We Age and Why We Don't Have To".
NMN may help with reversing the effects of aging that is seen in the face.
Mannitol is an ingredient that only a number of skincare experts know about found in abundance in seaweed and trees.
Benefits of Mannitol:
Contributes to the binding of moisture which may help with excess oil on the skin
Contributes to skin hydration
Protects the Skin from Free Radicals and Oxidative Damage
TMG provides trimethylglycine (a.k.a., anhydrous betaine), an important methyl donor.
Benefits of TMG Betaine:
TMG's osmolyte properties increased skin hydration and improved skin barrier
Our Liposomal Vitamin C contains millions of phospholipid bubbles called "Liposomes" which are designed to shield, protect and deliver the Vitamin C directly into your cells.
Benefits of Vitamin C:
Contributes to the protection of cells from oxidative stress
Contributes to the normal function of collagen
Contributes to collagen formation for normal function of skin, bones and teeth
Zinc is needed for building keratin and formation of the skin's structural protein (collagen).
Benefits of Zinc:
Needed for protein synthesis and wound healing
Zinc is a vital antioxidant
Essential for producing type 1 and type 3 dermal collagen
Essential for the cross-linking which gives collagen durability & stability
Decreased Zinc = Decreased Total Collagen
Retinol (Vitamin A) has over 700 clinical studies showing its capabilities.
Benefits of Retinol:
May contribute to building collagen
May contribute to brighter skin
May contribute to radiant complexion
May contribute to reduction of dark eye rings
May contribute to unclogging of pores and reduction of pore size
Benefits of Biotin (B7):
Contributes To The Maintenance of Normal Skin
Contributes To The Maintenance of Normal Hair
Contributes To Normal Macronutrient Metabolism
Vitamin B9 - MethylFolate
Vitamin B9 contains anti-oxidants that can contribute to the reduction of oxidative stress in the skin.
Benefits of Vitamin B9:
May contribute to promotion of cell turnover
May contribute to firmer skin
Vitamin B12 - Methylcobalamin
Benefits of Vitamin B12:
May help regulate the production of pigment in the skin
May contribute to prevention of dark spots
May contribute to prevention of pigmentation
PQQ is a new anti-aging ingredient that is becoming increasingly popular.
It is found in abundance in dark chocolate and may contribute to the reduction of water loss in the skin helping hydrate the skin.
CoQ10 is a potent anti-oxidant that helps protect skin at the molecule level.
It may help reduce the damaging effects of the sun and zap free radicals in the cells.
CoQ10 levels drop to increasingly low levels as we age and are found highest in childhood.
Vitamin E helps support normal cell function and skin health.
As an anti-oxidant, it helps combat the effects of free radicals from toxins in our food and the environment.
Vitamin E may be helpful in reducing UV damage to skin also.
The skin is your body's largest organ and the only source of Pro Vitamin D3 for the body.
Pro Vitamin D3 is connected to the skin for its synthesis.
Benefits of Pro Vitamin D3:
May help prevent skin from premature aging
May help with skin cell growth, repair & metabolism
Very happy with product and service
I like this product very much. Gives me increased "clean" energy unlike jittery, caffeinated energy drinks. Seems to improve focus as well. Also excellent service. I emailed several times with questions and each time received a prompt, clear reply from the owner himself! Only thing I would suggest is not taking it before bed. Even though this product contains no caffeine I did have difficulty sleeping. I've always been a poor sleeper so it may not affect everyone as it did me. This could also be proof of efficacy.
"
Great product and service
Great quality product and excellent responsive customer service!
NMN &NAD Sublingual powder
This is the best NAD I have ever bought no other one that I have tried comes up to this standard would recommend to family and friends.
Energy levels
I was recommended Energise-X over 2 years ago and started to use it regularly, I am still using it and it has become part of my daily routine. I noticed the positive effects on my energy levels within a few weeks and this is why it was essential to me to keep using it. I also use NMN and can clearly see how healthy my skin looks. Great products.
What we all need, whatever age...
I have been using Energise X and NAD & NMN for a long time now. These products are like no other I have ever used, you don't wait to see the difference, it is quite obvious. My energy levels, skin, hair feel like they are being looked after and this gives me confidence in knowing that my longterm health and wellbeing is under control, with incredible results. Golddust.